Elders feel effects of housing prices
Some safe, others vulnerable as gentrification progresses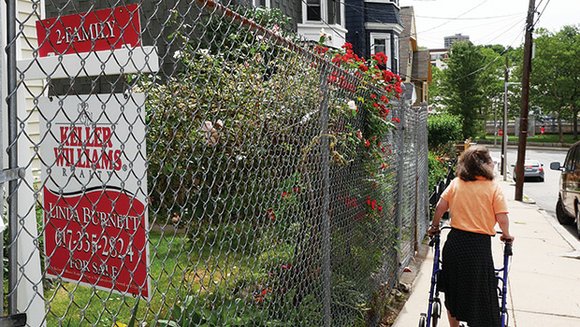 The elder experience of gentrification
Part 2 of a 2-part series Read Part 1 in the series here.
Boston's South End is cited nationwide as a textbook example of gentrification already out of the gate, and the city's Chinatown neighborhood is struggling for its very Chinese-ness as luxury towers proliferate all around it. In other Boston neighborhoods, residents and policymakers grapple with various stages of transformation, harboring hope there's still time to slow things down, or at least mitigate the displacement of lower-income workers, families and seniors.
For older residents in Jamaica Plain and Roxbury, experiences and feelings vary as housing prices rise and their neighborhoods change around them. Some are vulnerable to displacement, while others have found stable, affordable housing. Longtime homeowners have the luxury of contemplating whether to sell, some happy for the significant financial opportunity but hesitant to push a neighborhood shift that often results in fewer people of color.
Million-dollar JP condos
Navigating Jamaica Plain's Chestnut Avenue area with her walker, longtime affordable housing advocate Betsaida Gutierrez noted that nearby Forbes Street is where she lived with relatives when she arrived from Puerto Rico in 1972. This street and some other nearby streets were once mainly Latino families and still have some longtime Latino-owned homes, but closer to Stony Brook T station, many have been converted to condos and sold to a whiter and more affluent population.
Gutierrez, in her 60s and recently disabled by illness, has been lucky to land in an accessible, affordable apartment in a JP Scattered Sites cooperative building built by Jamaica Plain Neighborhood Development Corporation. It's a happy ending to a harsh story, as her move was forced. She was given 30 days to leave another Jamaica Plain apartment in which she had lived 15 years, she explained, when her previous landlord wanted to use the unit.
"We have worked real hard in this neighborhood to make it change, and all we are seeing is displacement," said Gutierrez, who has worked for decades on behalf of JP's Latino community.
She pointed out several starkly modern, slate-gray buildings that hold million-dollar condos. These luxury buildings are interspersed with older houses, some carefully refurbished and others visibly deteriorated. Showing a reporter the neighborhood on a June day, Gutierrez was surprised to find a new For Sale sign on a Latino-owned older single-family home, in addition to the condos for sale she notices every day.
"When a house gets sold, it usually turns into condos," she said. "Gentrification is here, and I don't know when it's going to change."
Opportunity kicks down the door in Roxbury
In Roxbury, change has lagged behind other neighborhoods, but residents and advocates now are feeling the pressure of sharply rising prices, a shift from a majority-black community to one that has growing proportions of both white and Latino residents, and growing encroachment by college student tenants.
"It's unbelievable how quickly prices have started to rise. It's almost perpendicular," said Roxbury-based real estate broker Sharif Abdal-Khallaq. He noted that a single-family home recently sold for more than $600,000, a price unheard of in the area just a few years ago.