Boston rents put squeeze on city elderly
S. End, Chinatown, hard hit as luxury units displace affordable apartments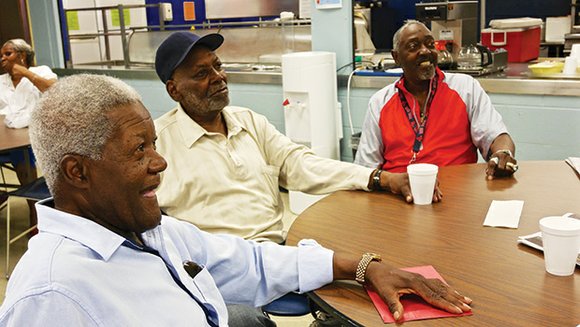 The elder experience of gentrification
Part 1 of a 2-part series
Part 2 will be published in next week's Banner.
At United South End Settlements' Harriet Tubman House, neighborhood elders dropping in for the senior lunch program on a June day had plenty to say about "a bunch of changes" they've seen over the years.
"This right here used to be a nightclub," said "Spider" Edwards, 85, recalling the old Hi-Hat club where Count Basie and other jazz luminaries played in the 1940s, one of many clubs in this area where the South End meets Lower Roxbury. The former Louie's Lounge down on Washington Street is now an apartment building, added Luther Flynt, a South End dweller for some 70 years.
Flynt rented on W. Springfield Street for 35 years, he said, up to 1999, and the price was reasonable — "not sky high, like it is now." The men agree that rents started going up when "other folks" moved in over the past few decades. And the area has most definitely shifted from black to white, they said.
"It's changing. It's changing every day. People don't want to live in the suburbs anymore," said Flynt.
Former South End neighbors have left for more affordable areas like Roxbury, Dorchester, Mattapan, and even Brockton, outside Boston, said James Banks.
"Financially, they force you out," he said. "You have to live within your means, so you move."
At a nearby table, Barbara Randolph, 85, spoke of growing up in an era when the South End was full of low-cost apartments for families, and plenty of rooming houses serving those at the lowest rungs of the economic ladder.
Her childhood street, W. Rutland Square, housed mainly African American families like hers. But 15 or 20 years ago, "people wanted to buy," she said, and longtime owners sold multi-family buildings and decamped to other neighborhoods such as Roxbury and Dorchester.
"It's not like they were forced out," she said, "but at the time a lot of older people weren't able to keep up with repairs and maintenance. They sold the buildings for $300,000 or so, and moved to other areas."
Randolph lives in a Columbus Avenue housing cooperative now, so her monthly rent remains affordable. She feels lucky that she's been able to stay in the South End, where most of her needs are within walking distance. But she's watched with dismay as "fancy expensive restaurants" have popped up and family-owned and longstanding establishments have faded away. She listed a few that have gone: Braddock Drug, Charlie's Sandwich Shoppe, a funeral parlor, and Concord Baptist Church, whose Warren Avenue building is being turned into condominiums after the church relocated to Milton.
She suspects newcomer pressure to quash a longstanding Sunday tradition of churchmember parking in the center of Columbus Avenue helped force the church out.
"Money talks. It's a shame," she concluded.
Documented gentrification
By the numbers
25 percent: One quarter of the city of Boston is affected by gentrification.
15 Incomes of the top 5 percent of Boston residents are15 times higher than those of the bottom 20 percent.
4th Boston ranks fourth in the nation in income inequality