Black Lives Matter activists: change slow in coming
Growing awareness, growing body count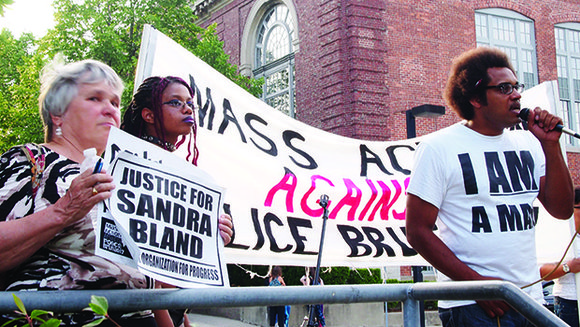 In the year that has passed since the killing of unarmed African American teenager Michael Brown in Ferguson, Missouri, Americans have learned the names of many more victims of police violence: John Crawford III, in Ohio; Akai Gurley in Brooklyn; Tamir Rice in Cleveland; Walter Scott in South Carolina; and Freddie Gray in Baltimore.
Last month, the country added another name to the list — Samuel DuBose, a 43-year-old who was shot and killed by a University of Cincinnati campus police officer after being pulled over for not having a front license plate. His last words, caught on the policeman's body camera: "I didn't even do nothing."
But unlike last summer's killing of Michael Brown — and Eric Garner, who was choked to death by police officers in State Island about three weeks earlier — Samuel DuBose's shooter has been charged with murder and voluntary manslaughter.
DuBose's killer, Ray Tensing, now faces up to life in prison if convicted.
While some may point to Tensing's prosecution as a sign that the country has made progress since the unrest in Ferguson last year, many activists, particularly those with the Black Lives Matter movement, which coalesced in the aftermath of Brown's death, say that there's still a long way to go until true justice has been achieved.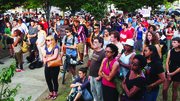 "A year later there's a growing awareness of the pervasiveness of the problems of police brutality and mass incarceration and how it affects black people," says Brock Satter, an organizer with Mass Action Against Police Brutality. The message of Black Lives Matter has resonated so deeply, he says, "It's become almost obligatory for all the candidates running for president to at least pay lip service to it."
"But at the same time," says Satter, who attended the recent Movement for Black Lives conference in Cleveland, "there really hasn't been a change in conditions on the ground. People are still getting killed by the police — almost every day, it seems. There's very little in the way of accountability. Unlike Brown and Garner, we've seen a few indictments, but they've been few and far between, and we've seen even fewer — if any — convictions."
Tahia Sykes, another organizer for Mass Action, says that the past year has opened the eyes of many Americans of what the police are capable of doing — in large part thanks to cell phone videos and police body and dash cams. "It's exposing an entire system that a lot of us didn't know existed," she says.
A June Gallup poll revealed that while the majority of the public still has strong confidence in law enforcement, the number — 52 percent — has dropped five points in the last two years to its lowest point since 1993.
Some policy changes have also taken place in the year since Michael Brown's death. The Associated Press reported this week that since the Ferguson uprising, 24 states have passed more than 40 new measures to address policing — from body cameras to anti-bias trainings, independent investigations into police use of force, and restrictions on military equipment going to local law enforcement.