The victory lap: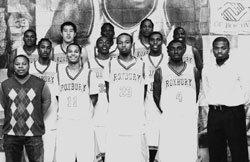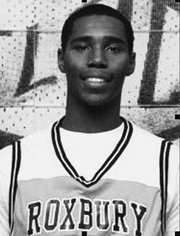 Roxbury team reflects on championship season
In unprecedented fashion, the Roxbury Community College Men's basketball team successfully outperformed their opponents in the National Junior College Athletic Association (NJCAA)'s Division III conference during the 2009-2010 academic year.
Under the leadership of Head Coach Kwami Green, the Tigers soldiered on to a 25-5-0 record for the season, and a victory at the Region XXI Championship.   
Winning and success have not always been a regular thing for the Tiger squad, Green said. The Dorchester native and Morehouse College alum has seen the basketball program at RCC progress from a group of unfocused, lackadaisical young men to one of determined champions.
In the middle of the 2008-2009 season, Green said, a majority of the team was ineligible to play as a result of poor grades. "That was a real wake-up call to the entire team" said Green, who immediately stepped up efforts to improve performance both on and off the court.
 It was then that Green began advocating for the study hall hours players are required to attend each day of the week. Players who do not attend are required to run extra laps – and worse. "If you're not giving a full effort," Green said, "you won't play."
Green's leadership began to rub off on his players, especially Jeffery Cannon, a twenty year old East Boston High School graduate and now a Sophomore Liberal Arts Major at RCC.
Cannon was one of the seven players left on the team last year after others failed to meet academic requirements and in turn he stepped into a leadership role that has proven successful for himself and his teammates.
 "My first year on the team, I was just trying to get my numbers and be out" Cannon admitted, jokingly.  "But then when I saw a few of my teammates fall, I knew I needed to step things up and needed to establish a team effort."
 Cannon was able to do just that, and in addition to leading the Tigers to the NJCAA Division III Region XXI Championship — which they won — he has scored just over 500 points this season. He averaged 24 points a game and earned accolades as the MVP of the RCC Invitational tournament and a National All-American.
RCC was not Cannon's only option, and nor is it the end of the line for the budding scholar-athlete. After high school graduation, Cannon had the option to attend a Philadelphia prep school to spend an additional year of study — and perfect his game — before applying to Division I colleges.
"The situation in Philadelphia just wasn't working out for me," he said, "and I sensed it right from the start … I am right where I want to be now, and I am looking forward to the next step" he explained.
For Cannon, the next step includes scholarship offers to play basketball at Johnson C. Smith, University of New Hampshire, Providence and others.
He still has plans to compete on the college court and in the classroom. "I would like to major in sports management and I am considering schools for their academic programs as well as their basketball," cannon said.