Pressley fighting discipline disparities
Releases policy recs. for Boston schools
3/21/2018, 9:39 a.m.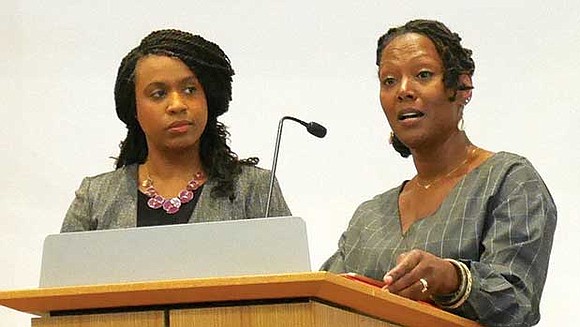 At-Large City Councilor Ayanna Pressley, together with the National Black Women's Justice Institute (NBWJI), presented a set of draft policy recommendations last week for Boston schools that address issues of disproportionate discipline actions toward girls of color and focus on creating safe and supportive learning environments.
"We have known for some time that black and Latino boys were disproportionately being disciplined and expelled," said Pressley, "and that policies appearing racially neutral were having disparate impact. What many didn't know is that girls were also being pushed out, and along the same race lines."
At a press conference March 12 at the Bruce C. Bolling Municipal Building, Pressley was joined by Dr. Monique Morris, co-founder of NBWJI and author of the book "Pushout: The Criminalization of Black Girls in Schools." Morris has worked with Pressley over the past year on "Project Focus: Girls of Color," a series of focus groups and hearings that culminated in the recommendations report.
"The nation is grappling with the issue of disproportionate representation of girls of color along the discipline continuum, and the differential academic and life outcomes that result from overreliance on exclusionary discipline," Morris said.
She added, "I applaud the Boston community for being part of the effort to examine this issue more rigorously ... so we can begin to interrupt these cycles in our young people's lives."
Nationally, in the 2013-14 school year, black girls were seven times more likely than white girls to receive one or more out-of school-suspensions, four times more likely to be arrested in school, and over two-and-half times more likely to be referred to law enforcement, according to data compiled by NBWJI. In the northeast region, including Massachusetts and spanning New England to Pennsylvania, out-of-school suspensions were six times higher for black girls than whites, black girls were four times more likely to be arrested, and three times more likely to be referred to law enforcement.
And the discipline is not necessarily in response to unsafe or violent behavior: "Across the nation and in Boston, girls of color have described experiencing discipline in response to their expressions, presentation and/or identity, instead of in response to an actual threat to school safety," states the Project Focus report introduction.

Indeed, part of the impetus for her local examination of girls' experiences in school, Pressley told the Banner, was the case in early 2017 of black and biracial students at Mystic Valley Charter School in Malden receiving detentions and suspensions for violating the school's prohibition on hair extensions. The state attorney general deemed the dress code discriminatory, and the school has since dropped its bans on hair extensions, hair coloring and hair more than 2 inches in thickness or height.
In summer 2017, Pressley and Morris organized a series of focus groups that involved 100 girls of color from all types of area schools. The focus groups were followed by two "listening-only" public hearings: in one, girls described their school experiences and their ideas for solutions, while elected and school officials listened without injecting feedback or commentary. In the other hearing, school leaders responded to what they'd heard, describing and suggesting policies and practices that could reduce discipline disparities.