Legal struggles against Trump policies continue
TPS-holders sue federal government for discrimination
Karen Morales | 3/21/2018, 9:36 a.m.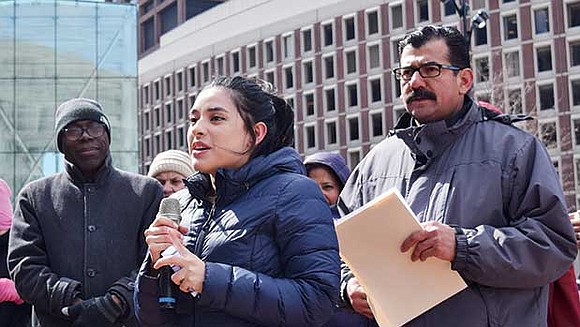 President Donald Trump lashed out at so-called sanctuary cities Monday during an appearance in New Hampshire — singling out Boston and Lawrence — and suggested their refusal to hold nonviolent offenders for immigration officials is helping fuel a crisis in opiate abuse in the Granite State.
Trump's divisive rhetoric underscored the challenges facing immigration activists who are fighting the Trump administration's punitive policies against immigrants and refugees. An executive order he signed last year, seeking to block sanctuary cities from receiving federal funding, was blocked by a federal judge in San Francisco last September, demonstrating that immigrants may still have a path to victory.
Last Thursday, community organizers and activists with the National TPS Alliance rallied outside Boston City Hall, citing a lawsuit filed recently in a U.S. district court in San Francisco by nine Temporary Protected Status (TPS) holders and their five U.S. citizen children to overturn Trump's decision to terminate TPS for El Salvador, Haiti, Nicaragua and Sudan.
"We are going to use every tool possible to protect our unity, our families and continue living in the U.S.," said Jose Palma, TPS recipient and member of the National TPS Alliance. "That means using the courts, using the streets, organizing rallies and pushing for legislation that will protect our people not only in Massachusetts but on the national level."
The lawsuit argues that every school-age child should have the constitutional right to live in the U.S. with their TPS-holding parents.
"We believe it is not a good idea for us to put at risk more than 270,000 children from the U.S. to decide whether to stay in this country without their parents or travel to a country that they don't know," said Palma.
The suit also argues that the U.S. government did not follow protocol in objectively determining whether to cancel TPS for certain countries and that due to the president's past comments made during his presidential campaign and during his time in office, the decision is discriminatory and violates due process and equal protection.
An active member of the National TPS Alliance, Carla Morales was born in El Salvador and came to the U.S. with her parents and younger siblings in 2000. The entire family was given TPS in 2001. The 20-year-old currently studies pre-med biology in Boston.
"Ever since we got to this country, my parents knew their ultimate goal was for us to have an amazing American education and for us to have a better future than we would have had in El Salvador," she said at the rally.
Morales said that with their TPS status, she was able to go to college and her mother was able to start her own party-planning business. As a member of the Massachusetts TPS Committee, Morales went to Washington D.C. to share her story with Elizabeth Warren, Ed Markey and other U.S. senators.
"Ever since I was in high school, I really enjoyed being active in democracy and having my voice heard," said Morales. "That was just surreal for an immigrant to go to Washington and speak to these powerful people."