Bedlam presents pared-down version of Shaw's 'Saint Joan'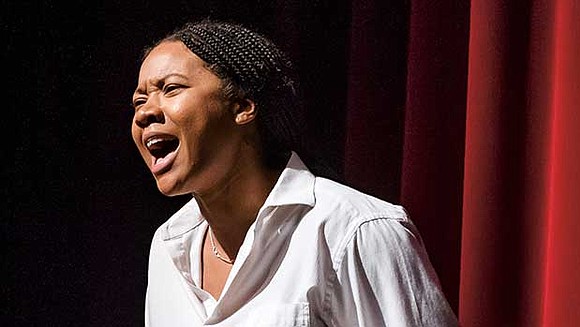 More relevant than ever in its searing satire of hypocrisy among power players in church and state, George Bernard Shaw's 1924 masterpiece, "Saint Joan," is on stage through March 25 at the Emerson Cutler Majestic Theatre in Boston in repertory with another iconic play, Shakespeare's "Hamlet."
Presented by ArtsEmerson, New York-based Bedlam theater company performs pared-down, riveting productions of both plays, with a cast of four enacting all 49 roles. Bedlam's founding artistic director, Eric Tucker, directs both productions and designs the costumes and sound, with sets by John McDermott and lighting by Les Dickert.
In 2015, Tucker was part of the four-member ensemble when Bedlam staged its Boston premiere of "Saint Joan" at Central Square Theatre in Cambridge.
After turning the tide of the Hundred Years' War between France and England in favor of her homeland, the French teenager known as Joan of Arc was burned at the stake in 1431, condemned in a church court. Shaw premiered the play in 1924, three years after the Roman Catholic Church relinquished Joan's excommunication, dismissed her conviction as a heretic, and canonized her as a saint.
Structure
Tucker presents Shaw's six scenes and epilogue as three 50-minute parts. The first follows Joan as she acquires allies and wins pivotal battles. In the middle segment, English power brokers of church and state confront their defeat and plot their next move in speeches laden with cultural and historical references and wit (it helps to read the play in advance). After crowning the Dauphin King Charles VII of France, Joan gathers with her allies, urging them to complete their victory and take back Paris. Passion meets realpolitik: they decline, preferring to sign a treaty.
During the first two segments, audience members are seated on the stage, surrounding the actors. The third segment focuses on her trial and the epilogue. Audience members are back in theater seats, the curtain is drawn and the sole actor on stage and in the light is Joan. Unseen but heard, her accusers growl like mad dogs as they argue over their line of prosecution and plot their case. As they interrogate her, they stalk the aisles, pressing their case to the audience as if they are jury members.
Dressed for battle in chinos and boots, Aundria Brown gives a passionate rendering of the play's sole female role. Her Saint Joan is faithful to Shaw's heroine, a robust and exuberant farm girl on a mission. She leaves her family's village dispatched by the voices of saints who tell her to lead the army of France to victory. Other than a few comrades-in-arms — the timid Dauphin, who is the son of Charles VI; and her unlikely but one true friend, a rough English soldier who hands her a cross made of two sticks tied together as she is burning at the stake — most of the characters are heads of church and state who see this persuasive and powerful teenager as a threat to their entrenched power.