Luxury housing booms; middle class struggles
Housing analysts say current strategy not working
Karen Morales | 3/14/2018, 9:55 a.m.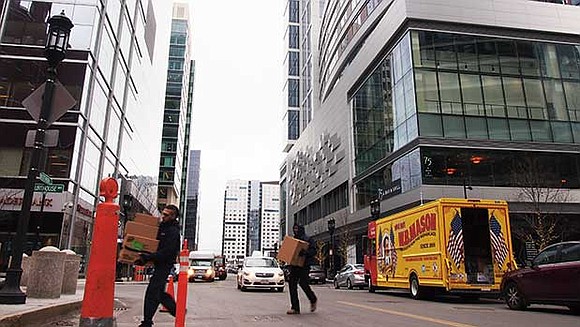 Low and moderate-income residents of Boston have been dealing with the impact of skyrocketing rents and home prices over the past several years, but the issue isn't just citywide; the combination of urbanization, economic inequality, speculative investment and market forces have contributed to a nationwide housing crisis.
Tim Reardon, director of data services for the Metropolitan Area Planning Council, has also observed the issue through a wider lens. "It's not just a housing issue, but also an economic issue," he said. Elements such as wage polarization, a decline of middle income jobs and the nature of global commerce have played their roles, said Reardon.
In the largest 150 U.S. cities, production of apartment buildings jumped by 46 percent between 2016 and 2017, according to RealPage, an apartment management software and data collection company. High-end luxury units accounted for more than 75 percent of those units, a dynamic that has increased the rent burden on the middle class.
In Boston, the picture seems similar. Half of Boston-area tenants pay more than 30 percent of their income on rent, according to a 2016 analysis by the research site Apartment List. Currently, there are about 25,000 new units in the development pipeline, meaning units that have not yet been permitted or broken ground but have been identified by the city as future developments. Out of that number, there are just 1,311 non-elderly low-income units designated to start construction, or which have already started construction, in 2018.
With national trends showing increased rent burdens on the middle class, the lack of affordability in the city's housing market may seem like an uncontrollable issue, but city officials and local housing advocates say they are determined to try to mitigate the detrimental effects through policy and preservation strategies.
For example, one piece of the housing crisis puzzle is the popularity of short-term rental units through online platforms such as Airbnb that are intended for homeowners and tenants to rent out their spare rooms or living spaces by charging visitors and tourists a nightly fee. Investors however, have been buying whole buildings and units for the sole purpose of using them in this way to increase their profits.
Karen Chen, executive director of the Chinese Progressive Association, told the Banner that the development of luxury condos and apartments in Chinatown has driven up rents and land values and has made it virtually impossible to preserve or expand affordable housing.
Even more troubling, the proliferation of Airbnb and other short-term rental platforms has added further pressure to the market, placing the value of row houses in Chinatown out of reach.
Chen said, "Modest-income people can't compete with investors who are counting on income from short-term rentals."
"Everything is happening so fast, and we're not developing enough affordable housing," she commented. "With the kind of pressures we're facing in Chinatown, if we don't have policies protecting the existing affordable housing stock it will affect the whole city."
City Councilor Lydia Edwards, who ran on a campaign platform against speculation in the housing market, has called for the city to further examine not only Airbnb units, but also foreign investments and home flipping. "What the speculative market does is take units away from residents," she said in a phone conversation with the Banner. "We need to be protecting our housing stock, including those where people are currently living."