Civic, political leaders discuss issues at Amplify Latinx conf.
Karen Morales | 3/14/2018, 10:52 a.m.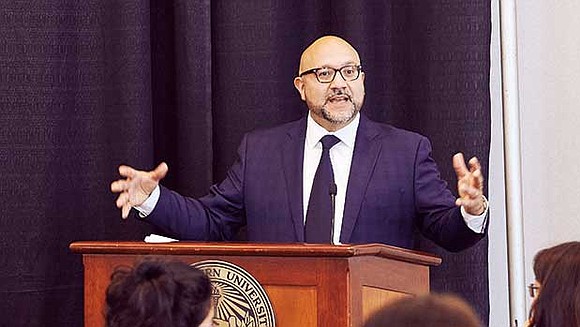 Latinx leaders and stakeholders from Massachusetts convened over the weekend at the second annual Amplify Conference: Moving from Intention to Acción, to address specific issues that affect the state's Latinx population and to advance the next generation of Latinx pioneers.
At the Raytheon Auditorium at Northeastern University where over 100 people attended the event — including Rep. Jeffrey Sanchez, At-large City Councilor Ayanna Pressley and Alberto Vasallo III, president of El Mundo Boston newspaper — keynote speakers and performers inspired and informed the audience.
As part of the morning session, keynote speakers, or "activators," shared their stories on how they "amplify" their Latinx identity through their personal struggles and professional endeavors.
Maria Elena Letona, executive director of the social services organization Neighbor to Neighbor, and Yvette Modestin, founder and executive director of Encuentro Diaspora Afro, talked about how they reconcile their identities with their Afro-Latin roots, especially in homogeneously white settings.
"I am usually the token in an all-white space. I'm used to legitimize their agenda but when I bring my voice, I am often ignored or seen as the "crazy Latina," said Letona.
Modestin pointed out the "ugly and sad" colorism within the Latinx community and how as a darker-skinned Latina, she would come across people who expressed surprise that she was not black or was called "negra" by other Latinos in a sometimes disparaging way.
"Si, soy negra. Orgullosamente negra," she said, reclaiming the label. She continued, "I'm black, everyday," meaning because of how she looks, she confronts a lot of the same discrimination black people face everyday.
David Morales, chief strategy officer and executive vice president for Steward Health Care System, talked about his time working on Beacon Hill as Commissioner of the Massachusetts Division of Health Care Finance and Policy and how he became one of the key authors of the Massachusetts' Health Care Reform law.
"The idea for healthcare reform started in my bathroom. It came from a Puerto Rican kid from Massachusetts," said Morales, referring to himself. "That's the power we have. That was only one person but when we're a collective, it's deeply powerful."
Ivan Espinoza-Madrigal, executive director of The Lawyers' Committee for Civil Rights and Economic Justice, shared his story of becoming the first openly-gay Latino executive director of the Lawyers' Committee. "I went into law so that I could learn what rights we had, as a family, to protect ourselves from our landlord," he said. "The work I do is deeply personal to me. I see my community, my neighborhood, in the clients that I work with."
Latinx agenda
The second part of the conference focused on collectively creating a shared Latinx agenda which identifies and prioritizes the top issues impacting the community.
Through roundtable discussions, each group sitting at a table in the room listed what they believed to be the top issues, and then shared them to include them in a collective list.
The top issues identified were: open and fair immigration laws and pathways to citizenship; economic mobility and empowerment through access to jobs, affordable education, capital and entrepreneurship; the education achievement gap; systemic racism; civic engagement; and health disparities in health care access, safe communities and healthy food.