Arroyo accuser drops complaint
Arroyo accuser drops complaint
Yawu Miller | 3/7/2018, 10:35 a.m.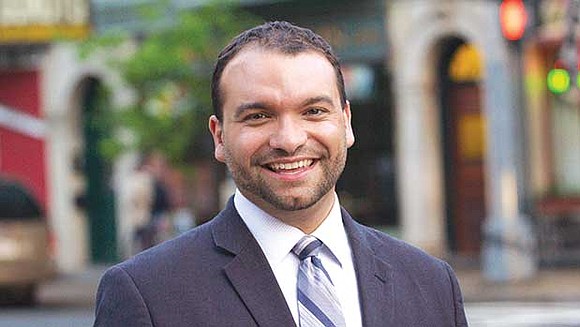 The woman who accused former Boston Chief of Health and Human Services Felix G. Arroyo of sexual harassment has withdrawn her complaint with the Massachusetts Commission Against Discrimination in a move that could open the door to filing a civil law suit.
In her MCAD complaint against Arroyo as well as Mayor Martin Walsh and the City of Boston, Hilani Morales alleged sexual harassment and discrimination on the basis of race, national origin and religion. The former HHS employee alleged she was sexually harassed by Arroyo, then transferred out of his department and given a demotion.
Morales first filed the MCAD complaint on August 17, shortly after filing a formal complaint with the city's Human Resources Department. While her MCAD complaint alleges that Arroyo sexually harassed her and gave her unwanted attention for two years, her complaint filed with Human Resources in July appears to contradict that account. The Human Resources complaint alleges she entered into a consensual sexual relationship with Arroyo in late fall or early winter of 2015. Morales claims she was retaliated against after she broke off the affair sometime in the spring of 2017.
Arroyo denies Morales' allegations in both complaints and presents as evidence signed affidavits from HHS staff members and other city officials with whom he worked. The Walsh administration has not given a reason for Arroyo's termination, but officials in the administration have noted repeatedly that he was an employee at will, a status that means he could be fired for no reason.
Despite having fired Arroyo on August 24, Walsh administration officials argued against Morales' MCAD complaint. City of Boston Director of Human Resources Vivian Leonard and Corporation Counsel Eugene O'Flaherty further note that Morales failed to bring alleged incidents of harassment to the city's attention, despite having filed a sexual harassment complaint against a co-worker. In their response to Morales' MCAD complaint, they responded that they did not have sufficient information to support her claims.
Leonard and O'Flaherty also note that after Morales and Arroyo and their respective attorneys had initial interviews with an independent investigator, Morales declined the investigator's request for a follow-up interview.
The affidavits from HHS employees that Arroyo submitted in his defense appear to contradict Morales' assertions of sexual, religious and racial harassment. In the affidavits, the employees highlight Morales' behavior as problematic, citing instances where she talked openly about her sex life with HHS staff. In one instance, she is alleged to have recounted a visit to a strip club during a staff meeting.
One HHS employee contradicted Morales' assertion in the MCAD complaint that Arroyo threatened her and grabbed her by the back of the neck after she filed a complaint with the Department of Human Resources. The employee said the door to Arroyo's office remained open at all times, affording him an unimpeded view of Arroyo and Morales.
"He did not move from behind his desk and was never within arm's length of her," the affidavit reads. "Felix never touched her."
In her complaint, Morales appears to have no witnesses supporting her story, while Arroyo has signed affidavits from 11 city workers, past and present and a former campaign staff member. Arroyo also submitted records of text messages between Morales and another staff member in which Morales makes an appeal for support and alleges that six other victims of abuse had come forward. "…[T]hey want to fire Felix. But they need witnesses and/or victims to the harassment and hostile work environment," the message reads in part. "Will you please consider talking to the lawyer today."