Protesters demand Harvard divest from Baupost
Hedge fund group holds Puerto Rican debt while island struggles to recover
Karen Morales | 1/31/2018, 12:32 p.m.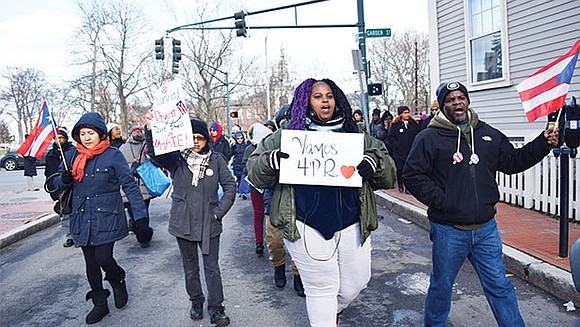 More than 100 students and community activists protested last week against Harvard University for profiting from Puerto Rico's debt.
The coalition of activists demonstrating last Wednesday at the school's campus included groups such as Community Labor United, The Hedge Clippers, Raices Boriken Collective, Harvard Student Labor Action Movement, Center for Popular Democracy and Massachusetts Jobs with Justice.
The demonstrators called on the university to divest its $2 billion stake with a Boston-based hedge fund, Baupost Group, which is a large holder of Puerto Rican debt and is managed by billionaire Seth Klarman.
Harvard's investment with Baupost comprises 5 percent of its total $37 billion endowment.
"We are here in front of Harvard University because they have decided that it's better to make money than to support a whole island that is right now, suffering," said Julio Lopez Varona, state director of Make the Road Connecticut. "Harvard is investing in this guy, Seth Klarman. He is a multi-billionaire hedge fund manager who makes money out of the suffering of people."
Whistle-blowing group Hedge Clippers has reported that Baupost owns $931 million in Puerto Rican debt as of January 2018. This debt is structured to be paid back from funds gathered through the island's sales tax revenue — money that should be used towards recovery efforts, activists say.
Baupost began to covertly purchase Puerto Rican debt in 2015 under the name Decagon Holdings 1-10 LLC, which comprises 10 shell companies. Investigative work by the Public Accountability Initiative and the Intercept revealed Baupost to be the owner of the shell companies in October 2017.
Hurricane Maria exacerbated Puerto Rico's financial crisis, with the category 5 storm devastating the island in September. Approximately 450,000 of 1.5 million electricity consumers are still without power, according to a report by The Atlantic.
"After the hurricane, players like Klarman decided to continue their practices. They decided it was better for them to buy another Ferrari or a house than to actually do something for Puerto Rico," said Lopez Varona, referring to speculators and hedge fund managers who are snapping up debt at a discount, pressuring the island to borrow more and promoting austerity measures such as public spending cuts.
Holding up a banner that read "Harvard Divest from Baupost," the demonstrators marched from Harvard Yard, around the Square and toward Harvard Business School, urging the institution to make a choice.
"Harvard has the opportunity to divest. In doing that, it can also align with its values," said Cassandra Lopez Fradera, an organizer for Raices Boriken Collective who also is a Harvard alumna.
The voice of alumni
Fradera shared her experience as a Puerto Rican student at the prestigious school.
"Harvard was a very paradoxical place where I was both oppressed and liberated," she said. "I invite Harvard alumni who are freedom fighters, to reimagine the relationship you have with the endowment and the people it affects."
She added, "We're also asking for students to get active on campus in solidarity, and make space for Puerto Ricans."
Jessica Tang, president of the Boston Teachers Union, also attended the protest as a former Harvard student.