Trevante Rhodes stars in '12 Strong'
Katt Williams | 1/26/2018, 6 a.m.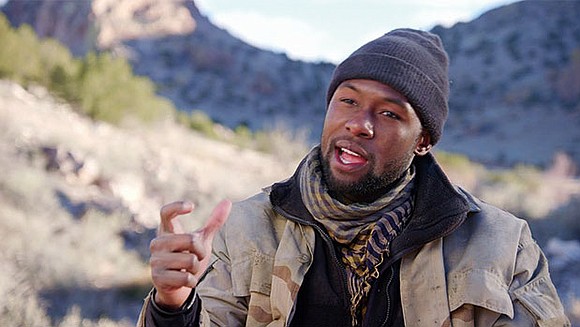 Trevante Nemour Rhodes was born in Ponchatoula, Louisiana on February 10, 1990, but raised in Little Elm, Texas from the age of 10. After excelling in sports in high school, he earned a scholarship to the University of Texas where he was an All-American sprinter as well as a running back on the Longhorns' football team.
On the Web
To see a trailer for "12 Strong," visit:
After graduating, Rhodes moved to Los Angeles to pursue an acting career, making his
big screen debut in "Open Windows" opposite Elijah Wood and Sasha Grey. A couple of years ago, he landed a breakout role as Black in "Moonlight," the gay-themed, coming of age drama which won the Academy Award for Best Picture.
Here, Rhodes talks about his latest outing as Sergeant Ben Milo in "12 Strong," a docudrama about the top secret mission of a Special Forces unit deployed to Afghanistan a few days after 9/11.
What interested you in "12 Strong?" Had you read the book before you got the script?
Trevante Rhodes: I read the book after I got the script. Although I was obviously very aware of 9/11, I was fascinated by this story which I had never heard about. I thought that these first responders and the way in which they prevailed was not only unique but pretty important. So, I felt that it was awesome to have an opportunity to be a part of turning this little-known story into a movie. Of course, I also jumped at the chance to work with [producer] Jerry Bruckheimer and the terrific cast attached to the project.
How did you prepare to play Sergeant First Class Ben Milo?
TR: My preparation included speaking to quite a few veterans. They were very open and honest about both their downtime and battle experiences. They shared the good, the bad, and everything in between. We also had Army Ranger training for three or four weeks which was not only educational but very valuable in terms of our bonding as a unit.
What do you want the audience to learn from the movie?
TR: I'd like them to come away with an accurate perspective of what it was like in Afghanistan after 9/11. For instance, I was 11 years-old at the time, and I believed all the people over there were bad. But that's obviously not the case, since the only reason why this mission succeeded was because of a lot of help from some locals. Another message is how valuable connectivity, love, honesty and being there for one another are.
Is there a genre out of your comfort zone that you would like to try?
TR: To be quite honest, nothing I've encountered thus far is outside of my comfort zone. I hope that every film I do is very different from the previous one. What I'm always looking for as an actor is to be challenged in a new way. That way I can be educated and grow. It also enables you to appreciate different points-of-view through your own eyes. But I might not be ready to do a comedy yet, unless I could find one with a cool message.