Former civil rights activist, scholar, Julius Lester dead at 78
Career took him from black power movement to UMass Afro-American and Judaic studies
Robin Washington | 1/26/2018, 6 a.m.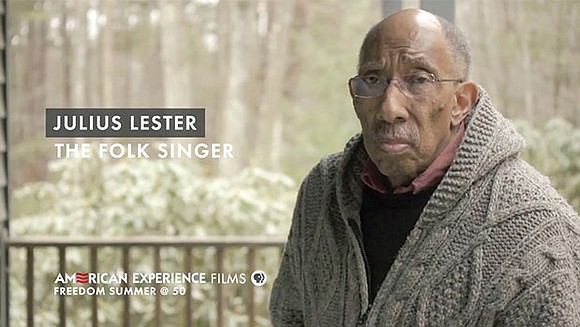 Open a recent edition of the Reform Jewish prayer book and you'll find a quote by Julius Lester. The reading comes a few pages after the Sh'ma, the holiest prayer in Judaism.
Then search the Black Studies section of a good bookstore or library. Among Lester's 40 books is one shouting, "Look Out, Whitey! Black Power's Gon' Get Your Mama!"
On Thursday, the world lost the man behind those words, a figure both beloved and at times a lightning rod to his black and Jewish communities. Lester, 78, of Belchertown, passed away peacefully, his daughter Lian Amaris posted on his Facebook page.
Against the grain
I first met Lester 30 years ago. Then, I was assigned to do a National Public Radio story about his version of the tales of Uncle Remus — African folklore that had been appropriated by whites — retold from a black perspective.
Born in St. Louis, the son of a Methodist minister, Lester became a folk singer and organizer for the Student Nonviolent Coordinating Committee, and later one of its more radical voices as the Civil Rights Movement gave way to Black Power. His activism and books led to an appointment at the University of Massachusetts Amherst, where I met him in 1987 and began by asking what his job title was.
"I don't like titles," he gnarled back, leading me to rephrase the question. "OK, just tell me your name and what you do."
"My name is Julius Lester and I teach … in Afro-American and Judaic Studies."
Whaa…? Do they group all minorities in one department here? I thought, but continued with the interview.
For that, he was enthusiastic, his booming voice bringing Br'er Rabbit to life while explaining the symbolism of African trickster figures. When he finished, I returned to my unasked question: if Afro-American and Judaic studies were one department.
"No, they're separate," he replied — then added, pausing for effect: "I'm Jewish."
"Well, so am I!" I said, and we both fell back laughing. Though I had been pulling the "Surprise! I'm Black and Jewish!" trick practically since birth, I had never done so on another Black Jew, and was pretty certain Lester hadn't had the tables turned, either. We agreed I should come back. I did, with a camera crew for WGBH's "Say Brother."
Again, we discussed his books, but also more contentious stuff: the Jewish hostility hurled at him in 1968 for airing an anti-Semitic poem on his New York radio show in the midst of a fierce school desegregation battle, and accusations nearly 20 years later that now he was taking the Jewish side in disputes between the groups at UMass. He would later be forced from the Afro-Am Department.
Spiritual roots
Most sensitive, we covered his spirituality, beginning from when he learned as a child that his great-grandfather had been a Jew, and Lester's vow to convert some day. He did, in 1982. With that identity still fairly new to him, I pressed whether Jews would ever truly welcome him.