As BPS schools brace for cuts, funding system under scrutiny
Weighted student funding puts some schools in a 'downward spiral'
Yawu Miller | 1/22/2018, 1:42 p.m.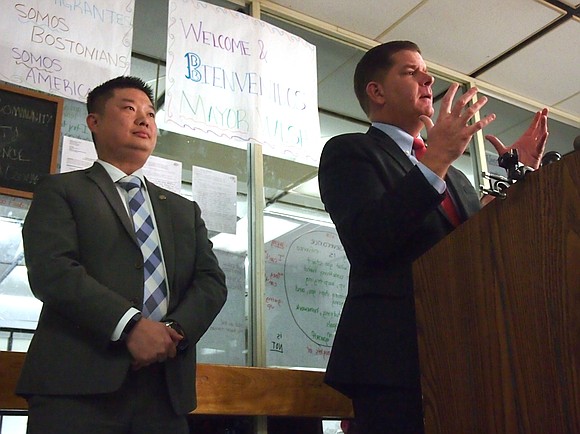 With early indications that schools will be receiving cuts for the third consecutive year, parent groups are gearing up for what may be a series of contentious School Committee and City Council meetings and many are questioning whether the way Boston schools are funded makes sense.
"We're in a vicious cycle which ends up hurting harming those most in need," said Barbara Fields, who sits on the executive committee of the Black Educators' Alliance of Massachusetts. "We can't profess that we're focusing on children and closing the achievement gap and not provide the resources needed for quality education for our children."
BPS officials have not publicly released the budget, but parents who have attended school site council meetings say cuts in the 2019 budget will include the Irving middle school and Bates elementary in Roslindale, the Kilmer and Lyndon elementary schools in West Roxbury, the Mather elementary school in Dorchester and Winship elementary in Brighton, which is reportedly due to receive a $500,000 cut.
As a result, in the previous two years, schools have lost teachers and support staff, cut programs including SAT prep and AP classes, cut hours for nurses and shuttered libraries. In 2016, the budget battle led to protests, including two student walkouts. Last year, the Boston School Committee anguished over cuts to 48 schools including several with Level IV status, one step away from state takeover.
Successive years of cuts have lowered parents' expectations, forcing them to scale back plans to expand programs at schools, says Lucas Orwig, a parent who has a child at the Hernandez school and is a member of the Citywide Parent Council.
"We're not even able to maintain what we have, let along make things better," he said.
In reaction to the early reports, parents with the Start Smart BPS group have launched an online petition calling on the Walsh administration to restore $33 million in funding they say should have gone into BPS classrooms had the Walsh administration increased school spending at 3 percent a year — an increase that would allow school budgets to keep pace with inflation and the city's growing tax base.
The money follows the student
Boston uses a so-called weighted student funding formula that assigns each school a set dollar amount for each student, that factors in grade level, disability and language needs. Schools that educate a higher number of English language learners, for example, receive more funding that schools that have none. In devising its weighted student funding system, BPS partnered with Education Resource Strategies, a Watertown-based education reform group whose funders include the Gates Foundation and the Walton Foundation.
Prior to implementation of the weighted student funding formula, Boston schools were allocated staff by the central office. If a school lacked a librarian, the responsibility for that deficit was with the school department. Under the current system, a school's funding is tied to its enrollment numbers. When a school loses students, either because parents don't select it or, in some cases, because the district has taken away its feeder schools, principals are faced with the decision of whether to cut teaching staff or support staff, such as librarians and nurses.