Melinda Lopez bears witness in 'Mala'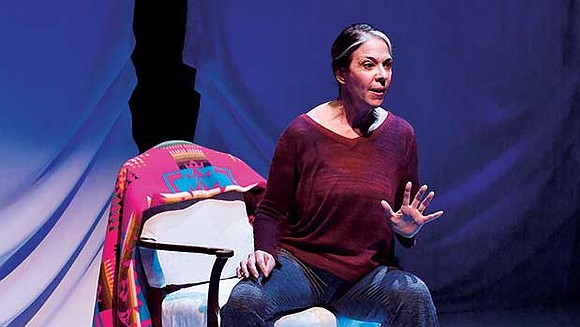 "Tu eres mala!" ("You are bad!"), curses an angry mother as her daughter dispatches her against her will to a hospital after a bad fall.
This daughter is played by playwright Melinda Lopez in her semiautobiographical one-act play, "Mala," on stage at the Boston Center for the Arts through Feb. 4 in an ArtsEmerson production presented by the Huntington Theatre Company.
The cursed daughter explains, "Mala means bad. But more than bad, it means your essential self is bad. Not that you have done something bad, but that you are — in your core — bad."
Mala is the play's narrator and sole character, a role performed by Lopez that is somewhat modeled on herself. Like Lopez, Mala is a Cuban-American reflecting on the harrowing experience of caring for terminally ill parents. Lopez, the Huntington Playwright-in-Residence since 2013, wrote the play shortly after the death of her father and subsequently, the loss of her mother.
Pain and humor
This production is directed by David Dower, ArtsEmerson artistic director, with the same team he led to stage the 2016 world premiere of the play, which won that year's Elliot Norton Award for Best New Script.
Performing her play, which runs 80 minutes with no intermission, Lopez engages the audience as soon as she strides onto the small stage of the BCA's Roberts Studio Theatre. Exuding candor, warmth and humor, she launches an intimate conversation about a tough truth — that even though she is the good daughter who "signed on" to take care of her parents, and intended to "do this with some grace," she found that her best efforts fell far short of her ideals.
Wearing a V-neck sweater, trousers and sneakers, her hair pulled back in a no-nonsense knot, Lopez is in almost constant motion, as, with a mug of coffee in hand, she tells stories with her words, voice and body.
As the ambulance takes off with her mother, she utters the word "Mala" in a long, siren-like wail, transforming a painful memory into a terrific moment of comedy. Later, when her monologue takes a confessional turn, Lopez pounds her chest in remorse, although it never becomes quite clear why she needs to be forgiven.
Her Mala creates a host of scenes and characters, including herself, recollecting strange, funny and painful episodes while taking care of her dying mother, a period that coincided with Boston's hellish 2015 winter, when the city was buried in snow until March.
Her older sister ("the bad cop"), flies into town just in time to take their ailing 92-year-old father to the Registry and renew his driver's license, much to Mala's chagrin. Mala's Italian-American friend Gina, a dog groomer, tells of helping her addled mother locate her lost head. A hospice nurse "with the metabolism of a hummingbird" assures Mala that her mother is "doing great." Mala asks, "Isn't she ... you know ... not doing so great?" The nurse replies, "Oh sure, but you should see my other patients!"
Reflecting on her sister's career as a drug researcher leads to a riff on "mouse blood" and the findings from injecting the blood of young mice into their elders, who take on the behaviors of their source. Her fatigue and the Boston winter prompt a dream evoking the legendary Eskimo ritual in which the dying are sent out to sea on an ice floe.