Greater Boston residents meet in person to talk about race
Gatherings are organized in each neighborhood to discuss Spotlight series
Karen Morales | 1/12/2018, 6 a.m.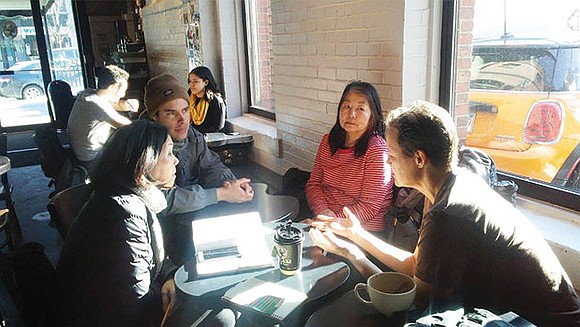 The Boston Globe's ambitious seven-part Spotlight series on race in Boston, released in December, sparked diverse reactions, including shock, praise and sharp criticism. Now, individuals are organizing neighborhood meetups all over Greater Boston to continue the conversation face-to-face.
After reading about the various historical and institutional ways racism is embedded in Boston's social fabric, Paul Yin, a Waltham resident with a master's degree in social work from Simmons College, was left saying, "Now what?"
He believed the dialogue shouldn't have to end at the series completion, so he created a Facebook group dedicated to organizing small gatherings to discuss the complexity of racism in Boston with other people "who are not like us."
In other words, Yin set out to create a safe space for diverse individuals of all backgrounds to get together in an informal, casual way and talk about issues that might at first be uncomfortable to talk about.
"It's a way to talk to other people from different perspectives, a way to maybe bond over a cup of coffee or food," he said. "I want [the meetings] to grow organically and naturally."
Trust through dialogue
The Facebook group, "Racism in Boston (RIB) Spotlight Series Meet-ups" has over 100 members, and meetups have been scheduled in several neighborhoods including Roxbury, Cambridge, Hyde Park, Jamaica Plain, and East Boston, as well as Greater Boston areas such as Quincy, Waltham, and the South and North Shores.
With the help of other co-organizers, dates, times and meeting places, usually local restaurants, bars or cafes, are regularly announced in the Facebook group.
Over the course of two weeks, just a handful of people have attended the meetups, including one on Christmas day in Waltham, where four people showed up.
"So far, it's been a lot of introductions, sharing what people have experienced themselves and what they found really compelling about the Spotlight series," said Sunessa Schettler, a co-organizer for the Cambridge meetups.
A personal trainer for a women's gym in Cambridge, Schettler has set up two gatherings so far during lunchtime in Harvard Square, in between her training sessions with clients.
"I've found it's convenient for those who work in the Harvard or Central Square area and want to take an hour for lunch to talk with someone different and maybe build some sort of trust through dialogue," she said.
Quaime Lee, a career counselor for university students in Boston, organizes the Hyde Park meetups.
Lee immigrated to Boston from the West Indies as a child, first living in Roxbury, then in Hyde Park. He plans to use the meetups as an opportunity to express and discuss his thoughts on the Spotlight race series, in which he found the analysis "could have been richer and more nuanced than it was," he said.
The co-organizers
"When talking about the black experience in Boston, one should include the experiences of those not born here and those who had to adjust to U.S. culture like my family did, in addition to being a person of color," said Lee.