Crafting a consultancy
Entrepreneur taps training, experience in tech business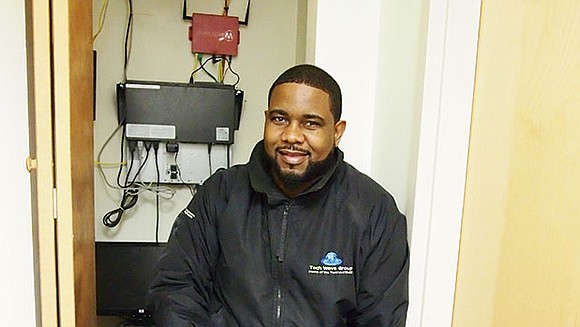 Growing up in Barbados, Ryan Brathwaite was drawn to computers mainly because his uncle in the U.S. was doing something with technology and it "sounded cool," he says. But he had a knack for technical tinkering, too. So when he had a chance to take computer science in high school, he was eager to apply programming to solve a problem. His idea: a program to handle airline passenger reservations and transfers.
"I'd been traveling from a young age, to spend summers in Boston with relatives," he says. "The whole system kind of intrigued me. There always seemed to be some sort of problem with ticketing — so I had an idea to solve it."
But his youthful enthusiasm hit a wall that could have shut off his path to a technology education and career.
"I was taking the class and I didn't even have a computer at home. I would write the code out on paper and have a friend enter it," he recalls. "At the end of the year, the teacher failed me — he didn't believe I could have written it."
He was taken aback, and his parents were upset too, as they had seen him working on the project. But, he recalls, "Back then, it was 'Whatever the teacher says, goes.'"
Reflecting on it recently, he says, "If I had allowed that to hinder me, I wouldn't be where I am now."
Today, at 40, he is CEO and president of Tech Wave Group, providing information technology consulting to clients ranging from individuals, small businesses and nonprofits to large institutions. On any given day, he might be providing help with network and security issues, web design and hosting, computer training or custom software applications such as inventory systems and databases.
Gaining skills
Brathwaite moved to Boston from Barbados as a teenager in the early 1990s. He finished his last two years of high school here and went on to Northeastern University to study computer science. When financial aid didn't cover all the bills, he landed a technician job at Verizon (then Bell Atlantic) while still a student.
The company paid his college tuition and later sent him to Certified Novell Engineer network proficiency training at Clark University. Promotions propelled him to systems engineer and technical lead roles. At one point, being the only technical person in a marketing group allowed him to add business development and planning expertise, he says.
Then came a setback. He had survived mergers and cuts in the telecommunications industry over six years, but eventually, after turning down a relocation to Texas, layoff was inevitable. He had been aiming for higher rungs on the ladder, but the corporate experience instilled indispensible skills.
"They taught me some intangible things," he says. "There are people who work for Verizon their whole lives and never meet the CEO. I was in meetings, going to conferences, meeting the CEO — in a way, I got 'Business 101' thru Verizon. I learned confidence no matter who I'm meeting with, from CEOs to peers."