Walsh begins second term as Boston mayor
Vows to support middle-class and homeless residents
Karen Morales | 1/3/2018, 10:35 a.m.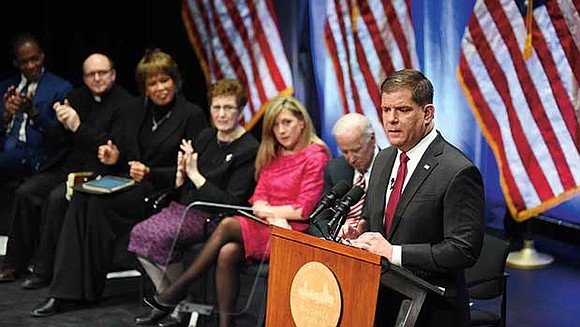 On the very first day of the new year, Martin J. Walsh took the oath to serve his second term as mayor of Boston, pledging to prioritize the city's middle class, redouble his administration's housing efforts, increase pathways to job employment and decrease Boston's homeless population.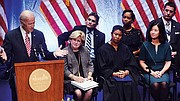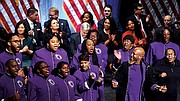 Presiding over the ceremony in support of Walsh was Vice President Joseph R. Biden Jr., surrounded by the Boston City Council, residents, family members and supporters at the Cutler Majestic Theatre.
"In the last four years, we have dedicated ourselves to Boston's progress," said Walsh in his inaugural address.
The mayor cited the accomplishments of his previous term such as "building a record number of new homes and new affordable homes," decreasing crime by 19 percent and arrests by 23 percent, and creating 80,000 new jobs.
"We have been confronting racism, welcoming the immigrant and housing the homeless," said Walsh. "And we always will."
Biden said, "We're at a moment when mayors and governors matter more than they ever, ever did. We need leaders who will stand up against the ugly divisiveness spewing out of Washington every day."
Both Biden and Walsh emphasized the need to fight for the middle class.
"You have the benefit of tackling these issues with a mayor who knows the great challenges of our time is to create, once again, a growing, thriving middle class," said Biden.
"We can be the city that's world class, because it works for the middle class," said Walsh.
As part of doing this, Walsh said he will continue to revitalize Boston's aging school infrastructure through BuildBPS, the city's $1 billion school facility program.
"There are 21st-century skills that a new building can unlock," said Walsh, naming Dearborn STEM Academy's and Boston Arts Academy's new state-of-the-art buildings, both of which are currently under construction, as examples.
The mayor said there have been funding shortfalls from the state and he will advocate for full state reimbursement for the per-pupil funding charter schools draw away from district schools.
He also called on the city's colleges and universities to play a bigger role in increasing opportunities for residents by admitting more BPS graduates and adding 100 new full scholarships for Boston students.
He touted his administration's Office of Workforce Development and the Office of Financial Empowerment, which he said has been serving more than 380 employers and 15,000 job-seekers annually with resume-writing, networking, interviewing and job searching skills, and equipping residents with credit and wealth building tools.
According to city data, since 2014, Boston has directed $11 million in new development funds to job training for 3,000 low-income Boston residents through employment placement programs. The city's unemployment rate dropped from an average of 6 percent in 2013 to 3 percent in 2016.
Building upon this, Walsh announced in his inauguration speech the launch of a new campaign, Boston Hires. In partnership with nonprofit partners and private employers, the city's goal is to train and place 20,000 low-income Boston residents in jobs by 2030.
Boston Hires will begin recruitment and info sessions for its first cohort of 57 individuals in February 2018.