Claudia Rankine examines race through multiple platforms
Su | 2/16/2018, 6 a.m.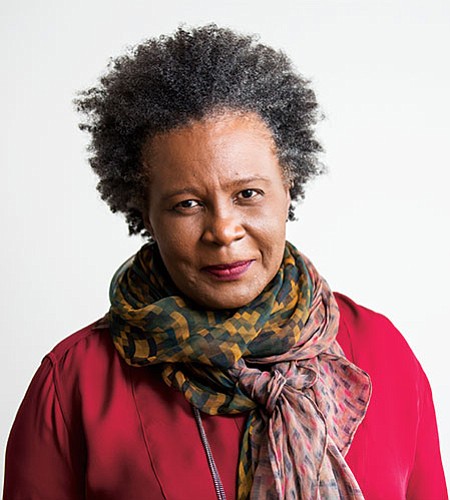 Poet and essayist Claudia Rankine has been examining, in a series of acclaimed books, how racial assumptions shape daily life. She also has extended her investigations beyond books to such public channels as readings and talks — and now, a play.
Her multi-award-winning 2014 book, "Citizen: An American Lyric," has inspired hundreds of readings and discussions throughout the nation, including some led by Rankine herself.
And since January, about 900 Bostonians have been taking part in Citizen Read, a series of public conversations about "Citizen" in advance of the Feb. 24 world premiere of Rankine's play, "The White Card." An American Repertory Theater (ART) production presented by ArtsEmerson and directed by ART Artistic Director Diane Paulus, "The White Card" will be on stage through April 1 at the Emerson Paramount Center in downtown Boston.
Race dialogue
Both the play and the book explore entrenched but unexamined assumptions related to race. Through searing anecdotes, essays and passages of poetry, "Citizen" recounts "micro-aggressions," racially demeaning moments in daily life, and reflects on "macro-aggressions," such as police shootings of unarmed youth.
"My idea for the play started because in touring for 'Citizen,' I had so many conversations with people who'd come to hear me read, who had read the book and wanted to talk about it," says Rankine. "I realized that we Americans don't have practice talking about racial issues in public, that people were easily offended, or defended, or made upset."
Discussions led by trained facilitators will follow every performance of "The White Card," and on March 4, Rankine will host a dialogue on race with Citizen Read participants at the Emerson Cutler Majestic Theatre.
A professor of poetry at Yale University, Rankine is the author of five collections of poetry, including "Citizen," which received the National Book Critics Circle Award for Poetry and was also a finalist for the National Book Award. The book also won the NAACP Award and PEN Open Book and Literary Awards, and it is the only poetry book to be a New York Times bestseller in nonfiction.
As powerful as it is to read, "Citizen" also offers a rich sampling of works by contemporary African-American visual artists, whose sculptures, paintings and collages are displayed throughout the text. "Black visual artists have been doing work of investigating race," says Rankine. "When we think about race, it's often a visual issue."
Imagined construct
The play "The White Card" unfolds in the rarified world of top New York art dealers and patrons. Its protagonist, and the sole black character in a cast of five, is Charlotte, an up-and-coming visual artist. Her photograph-based images are sought by Charles, who collects works by African American artists that evoke black suffering and victimization, purchasing the works with wealth he has earned by building for-profit prisons. In the first act, Charles and his wife Virginia host a dinner in their elegant Tribeca loft, joined by their son Alex, a college student and social justice activist, and their guests, Charlotte and Eric, an art dealer who has helped Charles assemble his collection. The second act occurs a year later, in Charlotte's studio, a setting conducive to a shift in both perspective and interpersonal dynamics.