Heaven on Earth
Gardner Museum displays restored Fra Angelico works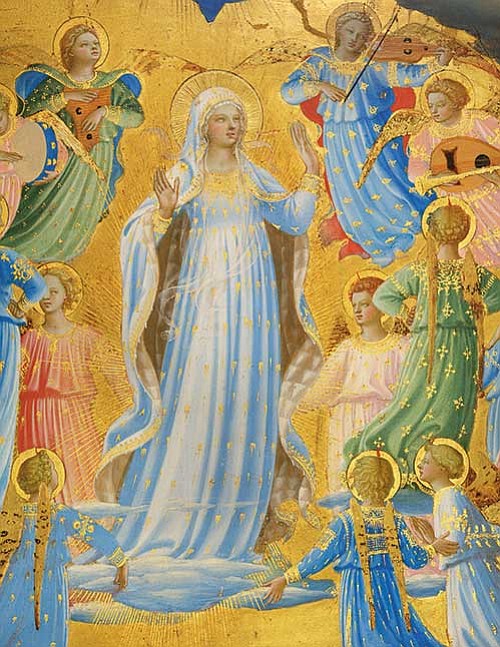 A small painting by Early Renaissance artist Fra Angelico, located in a quiet corner of the Isabella Stewart Gardner Museum, is reason enough for some visitors to frequent this palazzo on the Fenway. Viewers bask in the gilded radiance and serenity of the scene, which portrays the Virgin Mary as she is laid to rest and then welcomed by an angelic chorus into heaven.
Now through May 20, the Gardner's aptly titled exhibition, "Fra Angelico: Heaven on Earth," presents this painting along with 12 other works by the artist. Some displayed for the first time this country and most newly restored, they turn two galleries into luminous spaces inducing contemplation and delight.

As the first home of a Fra Angelico in America, the Gardner is a worthy host for this spectacular exhibition. Curator Nathaniel Silver edited its handsome catalog, with essays by 11 contributors and in-depth articles on each work, most written by Silver.


In 1899, Isabella Stewart Gardner acquired her Fra Angelico, entitled "The Dormition and Assumption of the Virgin." It is one of four reliquaries — displays that hold sacred relics — painted by Fra Angelico between 1424 and 1434 for the church of Santa Maria Novella, one of the Dominican edifices in Florence that displayed many of his works. Each venerates the Virgin Mary, a patron and protector of the Dominican Order. The other three are housed at the Museo di San Marco in Florence, next to the Convento di San Marco, where, while a resident, the friar painted frescoes on the walls of the monks' cells.
Newly restored, all four reliquaries are reunited for the first time in centuries in this exhibition, displayed side-by-side on temporary walls that evoke their original setting, a church sacristy, where a priest prepares for mass.

Angelic style
Function and aesthetic appeal unite in the works by Fra Angelico, which inspire intimate encounters with the sublime and also render Bible stories and parables for edification in an era when literacy was reserved for an educated few.
Fra Angelico (about 1395-1455), born Guido di Pietro, was raised near Florence. He and his brother were groomed for lucrative professions: his brother trained as a scribe, while he learned to illuminate books, mastering art of the miniaturist, which he later displayed by crafting images abundant in splendid, revelatory details. Both men chose to become friars and entered the Dominican Order.
After his death, the Dominicans anointed the artist "angelic," singling him out as one of its illustrious members, a circle that includes Thomas Aquinas, scholar and saint. In 1982, Pope John Paul II further exalted Fra Angelico with beatification, a step toward sainthood.

Yet Fra Angelico's artistry speaks for itself. His images conjure a sensory experience of paradise, and make masterful use of glistening, combed gold in the service of spiritual uplift. They are equally faithful to physical reality, rendering Bible stories, parables and legends with great immediacy in warm earth tones of richly layered egg tempera paint.