Lawmakers fete 25 yrs of ed. reform
Teachers unions steer clear of event, call for more funding
Yawu Miller | 4/11/2018, 9:23 a.m.
State officials and education leaders gathered at the State House last Thursday to mark the 25 years since Massachusetts passed the 1993 Education Reform Act, which codified the so-called grand bargain of increased state funding for schools coupled with mandatory standardized testing.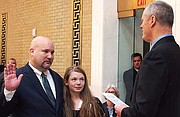 Among those present were Gov. Charlie Baker, Education Secretary James Peyser and newly appointed Commissioner of Education Jeffrey Riley. Absent were representatives of the state's teachers' unions, some of whom bowed out of the event in protest of what many see as state government's unwillingness to keep up the funding end of the grand bargain.
"Twenty-five years ago it was a good idea to fully fund education," said Massachusetts Teachers Association President Barbara Madeloni in a phone interview. "Now we're not doing it."
When the Education Reform Act was passed in 1993, legislative leaders widely recognized that there were vast disparities in education funding. That same year, the state's Supreme Judicial Court ruled in the McDuffy v. the Secretary of Education case that the state's underfunding of public education was in violation of the Massachusetts Constitution.
This year, legislators are not waiting for a lawsuit — although one may be in the offing. Local officials in Brockton and Worcester are gearing up to challenge the state's current Chapter 70 funding formula, which critics say is chronically underfunding education in Massachusetts cities and towns. The Legislature's Foundation Budget Review Commission found last year that Chapter 70 funding is underfunded by more than $2 billion a year.
While Baker's version of the state budget this year marked a 4.3 percent increase over last year's budget, he proposed an increase to Chapter 70 funding of just 2 percent, or $91 million — an amount education advocates say does not keep pace with rising costs. Baker's budget also proposes cuts of more than $23 million in non-Chapter 70 funding, which includes programs like school lunches and child sexual abuse prevention.
State Sen. Sonia Chang-Diaz is sponsoring a bill that would gradually increase Chapter 70 funding over seven years with a $200 million increase in the first year. Chang Diaz's bill (S. 223) has 82 co-sponsors in the House and Senate, including 10 Republican House members.
With no new broad-based tax increase in the budget to pay for increased funding, many are looking to the Fair Share Amendment, commonly referred to as the millionaire's tax, which would raise the tax rate on income over $1 million. The measure is expected to appear on this year's ballot in November.
Baker and Peyser have both been vocal in their opposition to the measure, which is opposed also by several Massachusetts business groups and the state's Republican leadership.
Several speakers at Thursday's event spoke about the revenue side of the "grand bargain."
Former Senate President Thomas Birmingham noted that state spending on education has been flat since 2002, a dynamic that has affected low-income communities disproportionately. Birmingham said the state is not keeping up its end of the grand bargain.
Former Education Secretary David Driscoll was more pointed.