Contenders for District 7's council seat outline stances
9/20/2017, 9:29 a.m.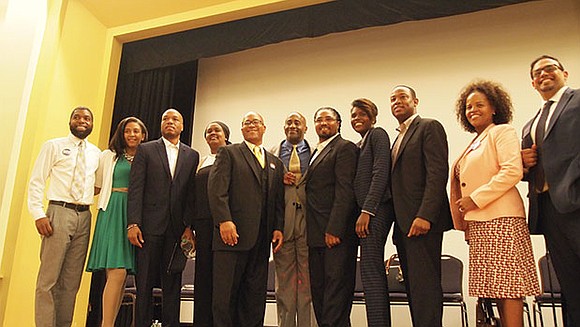 Candidates vying to be the next City Councilor for District 7 filled and nearly overflowed the stage at Hibernian Hall last week. Eleven of 13 candidates turned out for the debate forum on Wednesday Sept. 13 where due to the size of the field, candidates' answers were restricted to one minute each. City councilors are not party affiliated and the Sept. 26 primary will whittle the field down to two candidates.
The Bay State Banner's senior editor, Yawu Miller, and The Boston Globe's longtime reporter, Meghan Irons, moderated the discussion and questioned candidates on topics such as priorities for the Boston Public Schools, methods for improving access to better jobs and homeownership, plans to reduce violence and their ability to work with the mayor and other city councilors.
Many candidates said they were running to ensure the district gets a share of the economic boom and that preventing gentrification is a top concern.
The candidates described below are listed alphabetically. Not all candidates responded by Banner deadlines with information on what endorsements their campaigns had received.
Angelina Camacho, program manager at Action for Boston Community Development (ABCD) and former co-chair of the Citywide Parents Council, raised about $3,410 during 2017 as of the Aug. 31 filing deadlines. Of this, she personally contributed about $668, and nearly $1,330 remains in her campaign account.
Camacho's top concerns regarding BPS include tackling food and housing insecurity among students. In regards to residents' housing and economic situations, Camacho said increasing housing stock will help stabilize rents. She also spoke to the importance of financial literacy education, adding that she is involved with providing such workshops at ABCD, and she voiced support for vocational training. As for violence, Camacho said lack of opportunity and equity and the resultant lack of hope are primary drivers.
Camacho has been endorsed by the Carpenters' Union.
Charles Clemons Muhammad, who runs a low-power radio station, raised about $1,100 according to his Aug. 31 filing, of which he donated about $300, with $40 now remaining.
Muhammad promotes installing religion in public schools and joined others in calling for more BPS funding. He also said tackling violence and increasing support for homeless children would improve education outcomes.
His housing proposals centered on boosting rent-to-own opportunities. He also said more living wage jobs are needed. If elected, he promised a District 7 office that would be open seven days a week.
João DePina, owner of At Your Time of Needs Floral Design, and Ward 12 Democratic Committee treasurer, raised $17,080, of which he contributed $250, and has $8,950 remaining.
DePina said BPS should offer financial literacy and home economics and also called for more school funding.
He believes there has been too much focus on creating rental units, especially market rate ones, and said developers should not have the option to fulfill their affordable unit construction requirements off-site.
Resolving violence, he said, means getting youth engaged in it it off the street and meeting their mental health needs.
He said he would use strategies such as knocking on doors to connect with residents, including in non-election years.