MFA exhibits invite viewers to slow down, pay attention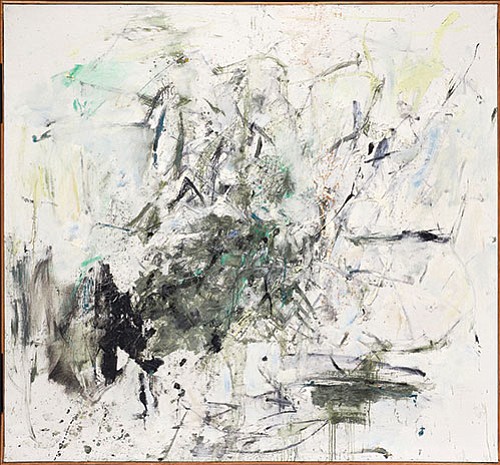 At its best, viewing art is an absorbing experience. The work slows you down and draws you in and distractions fall away.
The art of paying attention is the subject of a beguiling new exhibition, "Seeking Stillness," and its companion show, "Mark Rothko: Reflection," both on view at the Museum of Fine Arts Boston through July 1.
On the Web
For more information, visit:
Unfolding like a journey through three galleries, "Seeking Stillness" presents about 40 works that invite and reward slow looking. Among the featured artists are three extraordinary women not often represented in Boston shows: Agnes Martin, Joan Mitchell and Joan Jonas.
This show also serves as preparation for viewing the austere masterpieces of Mark Rothko (1903–1970) in the fourth gallery, on loan from the National Gallery of Art in Washington, D.C.
The show's uncluttered staging is conducive to contemplation. Adding to a sense of calm is a recording of spare piano solos performed by Ivan Illic, composed by avant-garde musician John Cage (1912–1992), whose repertoire includes a work in which the pianist does not touch the keyboard. Excellent wall texts provide context and artists' comments, including translated quotes from Chinese artists and poets.
Grounding the first gallery and its exploration of space as a catalyst of contemplation is a monumental, skull-shaped sculpture by African American artist Martin Puryear, who uses artisanal, hand-crafted techniques and materials to create evocative works. Entitled "Confessional" (1996–2000), the sculpture calls to mind the inner sanctum of a confessional space, and even has a kneeler. But with the kneeler mounted on the outside and lacking an entrance, the structure only allows viewers to peek inside.
Hiroshi Sugimoto's photographs of movie palaces and concert halls exude a quality of mystery. Shellburne Thurber's images render the quiet stability of a secular haven for reflection, the carefully furnished setting of a psychiatrist's office. Drawing from his Indian heritage, Gulam Rasool Santosh paints contemporary designs for meditation echoing the geometric patterns of Tantric mandalas.
Enclosed in its own viewing space is an overpowering altarpiece by Rosso Fiorentino, "The Dead Christ with Angels" (about 1524–27), a churning portrayal that seems ready to burst from its frame — an odd choice in an exhibition intended to encourage quiet contemplation.
The next gallery focuses on the process of art making as a meditative act in itself. A palette of ivory, soft grey and beige dominates the room and the works on view. Wall texts describe the rituals of some artists whose practices take monk-like discipline and skill. Among the abstract works are paintings by a Korean group active in the 1970s whose meditative art-making involved repeated application and removal of paint, tasks they performed with their whole bodies.

A minimalist with a Zen Buddhist's taste for simplicity, Agnes Martin (1912–2004) is represented with a 1988 painting that translates her memories of the light and air of Taos, New Mexico, into a delicate honeycomb of rippling lines.

The third gallery shows works in a variety of media — sculpture, paintings, photography, ceramics, and performance — by artists whose path to contemplation and creation is rooted in the natural world.