Walsh rejects charter enrollment bill with his name on it
Walsh's office complains of "added language"; Bill sponsor: "I filed exactly what his office sent me."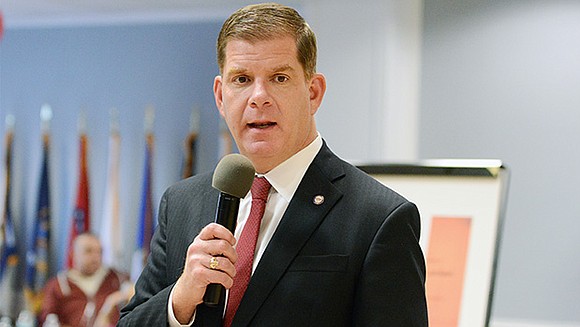 Mayor Martin Walsh is seeking to distance himself from a bill bearing his name that parent education activists say was filed quietly and would facilitate a controversial school policy known as unified enrollment, in which Boston families would see both charter and district schools in their lists of the public schools they can choose. Such a policy has been given little public debate in Boston since the idea received fierce pushback two years ago. As such, some parent activists were surprised when legislation seeming to be paving the way for unified enrollment appeared among more than two dozen bills slated for an Oct. 3 State House hearing.
Whose bill?
In an Oct. 11 statement to the Banner, a Walsh administration spokesperson said that the bill's language was altered and that the mayor disavows the legislation, which lists him as a co-sponsor.
"Mayor Walsh has been clear from the start that the community will be fully involved in any conversations related to unified enrollment," the spokesperson said. "As long as this bill includes the added language on opt-out and if that impacts the unified enrollment discussion, Mayor Walsh will not be supporting this legislation."
To back this up, the spokesperson provided a letter Walsh submitted on the day of the hearing that calls for passing his bill, H.2876, but which specifically references only some aspects of it and labels the bill with a different name.
However, according to the bill's lead sponsor, Rep. Alice Peisch, Walsh supplied the text and she filed it at his request.
"This particular bill I filed at the request of the mayor of Boston, which is a common practice as a courtesy. I filed exactly what his office sent to me," Peisch said in a Banner phone interview. "I was contacted yesterday [Oct. 12] by his office indicating that they had sent me the wrong draft and his intent was only to pass the portion of the bill allowing neighborhood charter schools in Boston. The first section had to do with the opt-out lottery was not intended to be included."
According to Peisch, the mayor's office said they were unaware what they filed until the bill's hearing.
The bill's filing deadline was January 2017. In that same month, Rahn Dorsey, Boston's education chief, told the Banner that the Boston Compact, a private entity that includes representatives from charter, Catholic and district schools, was 90 percent done with a formal proposal on unified enrollment. Dorsey is one of the Compact's members. Last week, a Walsh administration spokesperson provided a statement in Dorsey's name saying that the Compact is working on addressing questions that parents and educators had raised about unified enrollment.
On Oct. 16 a spokesperson provided the Banner with a letter on behalf of Rachel Weinstein, the Compact's chief collaboration officer, stating that the Compact is not involved with the bill. According to a Compact spokesperson, Weinstein says the Compact has received accusations that they are secretly pushing this legislation.