State legislators produce sweeping criminal justice reform bill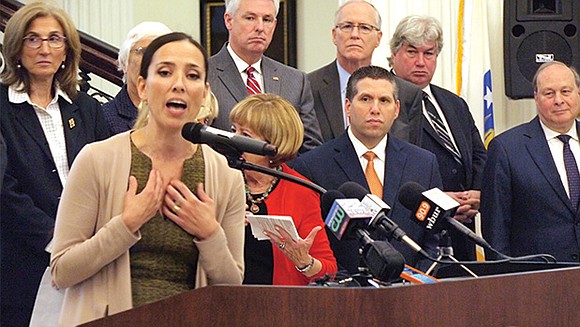 The senate's sweeping criminal justice reform bill was the focus of a State House press conference last Thursday. The legislative package aims to reduce unnecessary incarceration, and measures encourage less severe responses to offenses and remove policies that disparately burden the poor.
"However we got here, there's no question that in communities of poverty, incarceration itself has become a problem," said Sen. William Brownsberger, who has been championing the bill and received praise for engaging affected communities and formerly incarcerated people in the legislation's development. "We need to lift people up instead of locking them up. And we need to cut the chains that hold people down when they're trying to get up back on their feet."
Poverty
The criminal justice system is packed with fees that raid the pocketbooks even of those who have served their time, creating financial burdens that could return them to jail, said Sen. Michael Barrett.
"We [the state] are absolutely addicted to the money we extract from you as you move through the criminal justice system. Even after you pay your debt to society and begin to knit your life back together again, we want to extract user fees at every point in the system," Barrett said, stating that this practice must end.
These include probation fees, victim witness fees — including for cases where there is no victim or witness — and other items, Barrett said.
"Even when you have constitutional right for a lawyer before you're sent away, we will make you pay a user fee to access that lawyer — $150," Barrett said.
The bill provides for waiving, eliminating or reducing many fees. Another reform would revise bail policies in light of increasing awareness that too often, people of little means are jailed pretrial only because of inability to afford the bail price, not due to flight risk or likelihood of causing harm if released.
Criminal records, sentencing and solitary
Criminal Offender Record Information (CORI) checks can present a barrier to attaining housing, which is addressed by a measure allowing individuals not to disclose a sealed record in such cases. Another issue: After people serve their time or are found guilty, whichever is later, they must wait five years before being able to get the record of a misdemeanor sealed and ten years for a felony.
"No one of us could imagine being unemployed for ten years," said Pauline Quirion, director of the Greater Boston Legal Services' CORI and re-entry project. "Studies show employers will not hire you with a CORI even for a dismissed case."
The bill reduces wait times to three years for sealing a misdemeanor record and seven years for a felony record. Dismissed cases no longer would go on a person's record. Resisting arrest convictions would now be able to be sealed, instead of following an individual for life; Quirion said those charges often are incurred by youth, people with mental disabilities or victims of police brutality.
Other pieces reduce the use of solitary confinement and repeal mandatory minimum sentences for many drug-related offenses, particularly those regarded as affecting low-level dealers who sell to afford their own habit.