Jackson challenges Walsh on education, housing
Mayoral candidates present conflicting views of the city at J.P. forum
10/10/2017, 10:43 a.m.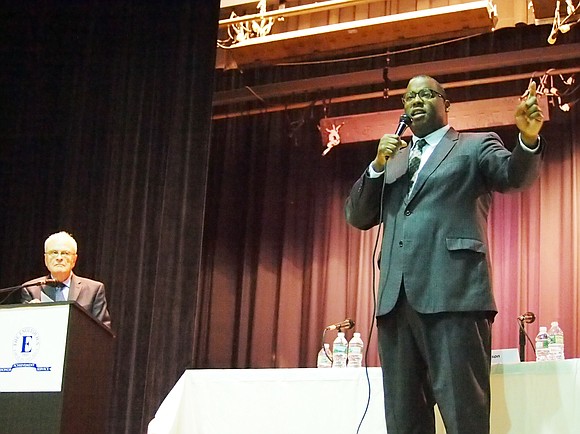 Mayor Martin Walsh and City Councilor Tito Jackson made their cases to Roxbury and Jamaica Plain voters last week, fielding questions about housing, schools and their records in office in the first mayoral candidate forum since the Sept. 26 preliminary election.
Walsh kicked off the forum, hosted by Democratic committees from wards 8, 9, 10, 11 and 19, touting his accomplishments over the last four years for half an hour before Jackson took the stage and for the next 30 minutes took aim at Walsh's record. Walsh emphasized what he characterized as $152 million "investments in schools." Jackson hit back, detailing $142 million in cuts to BPS schools. Jackson hit Walsh for city and state tax breaks used to lure General Electric to Boston. Walsh spoke about the promise of new manufacturing jobs the multinational corporation might bring to Boston.
The contrasting versions of the last four years gives an insight into the rhetoric each is likely to deploy on the campaign trail: Walsh's vision of a prospering city with substantial challenges his administration has been willing to take on, versus Jackson's vision of a city with growing disparities between long-term residents struggling to afford rents and deep-pocketed newcomers occupying gleaming new luxury high-rises.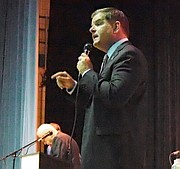 "We are a city of Boston right now where families can barely afford to live here. The housing policies are pushing people out of the city and gentrifying people out of the city every single day," Jackson said in his opening statement.
"We have $8 billion of development in our city," Walsh said in his opening statement. "We have 60,000 new jobs in the last three years, we have 30,000 new people living in our city in the last three years. We're building housing like we've never built before in our city. We have a triple-A bond rating for the last three years in our city."
The location of the forum — at English High School — underscored the tensions between Walsh's triumphal take on his initiative to build the city out of its housing crisis with 53,000 new units of housing and the perceived lack of affordability in the luxury condos currently under planning and development along the predominantly working-class Washington Street corridor neighborhood surrounding English High.
Barely a minute into his remarks, Walsh was interrupted by a heckler wearing a City Life/Vida Urbana T-shirt, who questioned the mayor's commitment to affordable housing.
"When I was running for mayor, I stood with you guys on a picket line when a guy was getting evicted out of his house by, I think, Santander Bank," Walsh shot back. "He was an Iron Worker Local 7."
Walsh listed among his accomplishments an increase in the percentage of affordable units required in new developments from 13 percent to 18 percent; increased revenue for the city's Affordable Housing Trust Fund, which he said is plowing millions of dollars back into the production and maintenance of affordable units in Boston; and the passage on the 2016 ballot of the Community Preservation Act, a measure that will provide millions more in affordable housing funds.