Joanna James 'A Fine Line' doc screens at GlobeDocs Film Festival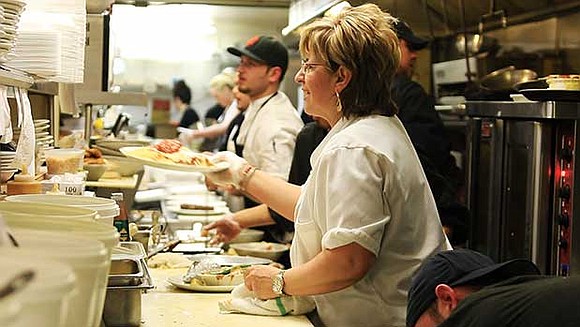 "I didn't care about money 'cause I knew I was going to make it. I believed in myself. Why shouldn't I do what I love?" says Valerie James in the documentary "A Fine Line" which closes the third annual GlobeDocs Film Festival on Sunday, Oct. 15 at 7 p.m. at the Coolidge Corner Theatre.
Directed by Joanna James, "A Fine Line" is a love letter and tribute to her mother Valerie James, who since 1991 has owned and operated Val's Restaurant & Lounge in Holden, Massachusetts. Joanna grew up working side-by-side with her mother in the family business. While she was always impressed and inspired by her mother, Joanna explains in a recent phone interview, it wasn't until she became an adult and mother that she truly understood her mother's story. "I realized the full extent of all the burdens she was carrying, and how we didn't really necessarily ever feel that growing up," Joanna says. "I thought that she just had a really uplifting story to share."
Divorced with two children to support and faced with a mound of debt, Valerie James worked most days from eight in the morning until 10 or 11 at night, determined to make the restaurant a success. "I couldn't afford to stop," she says in the film. "All I thought was, I have to make it work. I have to make it work."
In researching "A Fine Line," Joanna discovered that her mother was one of only 6 percent of U.S. restaurant owners who are women, and it was at that moment that she decided, she says, to "open it up and hear from other chefs."
Some of those other chefs include Elena Arzak, one of a very few female three-Michelin-starred chefs in the world; Cat Cora, the first female Iron Chef Champion; Dominique Crenn, the first female two-Michelin-starred chef in the United States; Boston native Barbara Lynch, a James Beard Award winner and Relais & Châteaux Grand Chef; and Sylvia Weinstock, an internationally celebrated cake designer. All of the women describe issues and challenges they faced coming up in the notoriously male-dominated culinary world. "It's interesting, says the first-time filmmaker, "because they all shared either similar obstacles that they went through or perspectives that really shine a lot of light on what needs to be done in the industry."
Three years in the making, "A Fine Line" is coming out at a time when the issues of equality and wage parity are no longer bubbling underneath the surface of our national discourse but have jumped to the forefront. Joanna and her team are coordinating the release and distribution of the film with a very strong engagement campaign nationwide.
"It's three-fold," explains the director/producer. "It's lobbying for paid parental leave because the U.S. is one of the only developed countries that doesn't offer it; equal pay for equal work; and what can be done to increase women in leadership positions and career advancement."