Equity remains challenge for Walsh administration
People of color still underrepresented in City Hall
Yawu Miller | 11/29/2017, 9:59 a.m.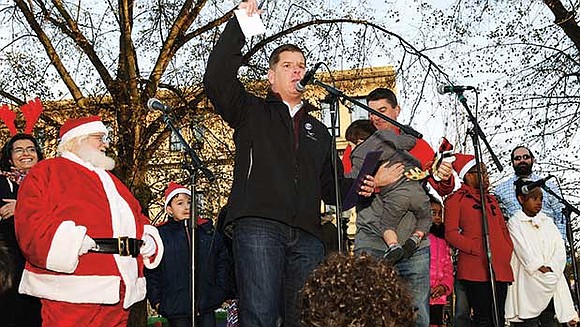 When Mayor Martin Walsh convenes his cabinet chiefs, one-third are people of color. At meetings of the city's department heads, more than half are people of color.
But cabinet chiefs meet no more than twice a month and department heads have no regular meeting schedule. It's Walsh's senior staff that has his ear, meeting with the mayor several times a week. Among the five on that staff, all are white.
That pattern of broad inclusion where City Hall power is most diffuse and exclusivity where decisions are made replicates itself throughout city government. As the NAACP noted in its recent report card, people of color make up 53 percent of the city's population, but 45 percent of the city's workforce. And the more than 7,000 people of color working in City Hall earn substantially less on average than their white counterparts.
As Walsh enters his second term in office, civil rights advocates will be looking for more substantial progress on efforts to bring equity to City Hall.
"Diversity and inclusion are not the same," commented Boston Branch NAACP President Tanisha Sullivan. "While the administration made incremental progress in diversifying city government, it is our hope that we will see greater inclusion of blacks and Latinos in decision-making on all matters. We will be interested to see who is included on the 'senior' staff in the second term."
Campaign pressure
During the weeks leading up to the Nov. 7 election, civil rights issues came to the fore with challenger Tito Jackson pressing Walsh on police reforms, city hiring, civil rights lawsuits filed against city agencies and a housing market that threatens to displace working-class and middle-class Bostonians of all races.
In its 2017 report card on the Walsh administration, released in October, the NAACP Boston Branch gave the Walsh administration failing grades on multiple measures of diversity and inclusion, pointing out challenges the administration faces in living up to the mayor's campaign trail promise to build a municipal workforce that reflects the diversity of Boston's population.
A similar report card issued by the Greater Boston Latino Network in June reached similar findings. Titled "The Silent Crisis," the report detailed underrepresentation of Latinos in city employment rolls and leadership positions in city government. The group is still waiting to see progress, said Executive Director Marta Rivera.
"It's not just about hiring Latinos," she said. "Having us in positions where we can help inform policies and decisions is imperative to having a more responsive and informed government. Not only do we lack representation, but we lack influence, as well."
Lack of hiring power
Early on in his administration, Walsh drew some praise for assembling a diverse team of department heads. John Barros and Felix G. Arroyo, both of whom ran against Walsh in the 2013 mayoral preliminary, received positions in City Hall: Barros as chief of economic development and Arroyo as chief of Health and Human Services (Arroyo has since been replaced by former Mass Mentoring Partnership Executive Director Marty Martinez). Other high-profile people of color in the Walsh administration include Alejandra St. Guillen, who heads the city's Office for Immigrant Advancement; Jerome Smith, head of the Office of Civic Engagement; Education Chief Turahn Dorsey and Environment, Energy and Open Space Chief Austin Blackmon.