Up next for Dudley plan: a design workshop
Since February 2016, Dudley Square has been the focus of one of the Boston Planning and Development Agency's community planning initiatives, joining similar efforts in Jamaica Plain/Roxbury and South Boston (Dorchester Avenue).
If you go
What: Dudley design workshop
Where: Monday, Nov. 27, 5:30–8 p.m.
When: 2315 Washington St., Dudley Square, Roxbury
On the web
Dudley Square: http://bit.ly/2Ajocbb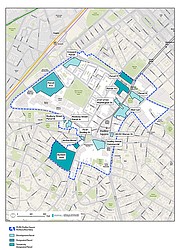 For the Dudley planning process, 17 public events have been held so far, including open houses, walking tours and workshops covering transportation, economic and workforce development, housing and climate readiness.
The next meeting — and the last for the 2017 calendar year — will be an urban design workshop on Monday, Nov. 27 from 5:30–8 at Central Boston Elder Services.
Meeting format
BPDA Senior Planner Courtney Sharpe told the Banner that the design workshop will begin with an open house format, during which community members can browse displays that recap the planning process so far and show various urban design concepts relevant to Dudley Square development. Following that will be small-group "table exercises" in which attendees will look at potential development scenarios.
The focus of the evening will mainly be on several vacant lots along Washington Street: the Blair Lot; 2147 Washington St. (across from the Blair Lot, next to Haley House); and Parcel 8 at Melnea Cass Boulevard and Washington Street.
Discussions will cover what buildings might look like if they are to hold office space, housing, retail or other uses.
"It's really thinking about the form of the building, and how people react to different options of size," said Lara Mérida, BPDA's deputy director for community planning.
Mérida and Sharpe said planning for Dudley Square continues to be focused on adding housing in a mix of one-third affordable for low-income households, one-third affordable for middle-income and one-third market rate.
"We want to increase the population to help area businesses thrive, but to ensure that everyone has opportunity, no matter what their income," Mérida said.
Plan continues despite criticism
The PLAN: Dudley Square process is intended to allow community stakeholders and the BPDA to revisit the visions and goals of the Roxbury Strategic Master Plan and Dudley Vision and to "think strategically about the types of uses, public realm, and scale of development that are best suited for the future of the area," according to the BPDA's description of the plan.
Incorporating community feedback, at the end of the planning process the BPDA aims to introduce an updated roadmap and Requests for Proposal for the development of Dudley Square's publicly-owned and vacant privately-owned land parcels. Zoning changes could be a part of a new plan, though BPDA planners said zoning changes would be more likely related to dimensions than to different uses altogether.
City Councilor Tito Jackson has voiced skepticism of the PLAN: Dudley process, both before and during his recent mayoral campaign. Early in the process, in spring 2016, he called for a halt to the plan, saying the plan was launched without community approval and without regard to his efforts to establish a coordinated vision for the area by restarting the Roxbury Neighborhood Council and launching a community-led Reclaim Roxbury initiative. Last fall, Jackson questioned the lack of a Roxbury housing study and asserted that "development is what drives planning in Roxbury, rather than actual planning driving development."