Huntington Theatre Co. brings Molière's 'Tartuffe' into 21st century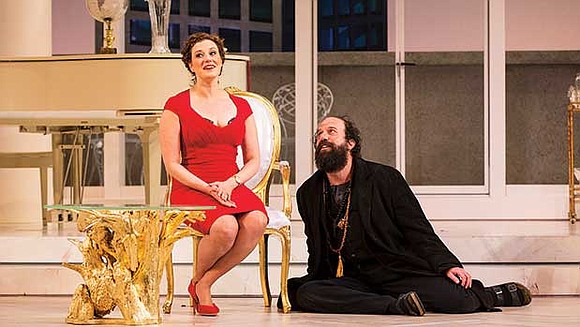 The Huntington Theatre Company is presenting an exuberant and stylish production of "Tartuffe," a 17th-century farce by Molière, one of France's greatest dramatists. On stage through Dec. 10 at the Avenue of the Arts/Huntington Avenue Theatre in Boston, the production turns this tale of a wily con artist posing as a holy man into a buoyant contemporary comedy.
The Huntington's artistic director, Peter DuBois, directed the production and its superb staging, with sets by Alexander Dodge, costumes by Anita Yavich, lighting by Christopher Akerlind and choreography by Daniel Pelzig.

On the Web
For more information about Huntington Theatre Company's 'Tartuffe,' and to buy tickets, visit: http://bit.ly/2A55qSa
A brief prelude gives a taste of what is to come in a series of strobe-light-rapid snapshots of the hypocrite Tartuffe at work coddling his mark, Orgon, the hapless man of wealth who adopts the fawning imposter as his guru. In one, for example, Tartuffe inhales Orgon's shoe as if it were a fragrant bouquet before placing it on his foot.
The play then opens onto a still life of Orgon's family, assembled like so many marionettes in the vast living room of his modern high-rise dwelling, with a soaring floor-to-ceiling view of the sky (a feature that comes in handy later in the show). They pose against a backdrop of ivory gauze punctuated by the vivid blue, fuchsia, red and tie-dye hues of their costumes, all speckled with rhinestones — a visual cue to the folly of the wearer.
But they are not still for long. Cracking her cane like a whip, Orgon's mother, Madame Pernelle, attired in black like Tartuffe and Orgon, berates her daughter-in-law Elmire, Elmire's brother Cleante, her grandson Damis and granddaughter Mariane for refusing to submit to Tartuffe, whom they all recognize as a fraud. As she strides across the stage in a rhinestone-studded sheath, Paula Plum's imperious matriarch bestows insults and occasional beatings on her relatives, including the hotheaded Damis (Matthew Bretschneider), whose cellphone, his only weapon, is over the course of the show dunked, scorched, and thrown by his grandmother, his father and later, Tartuffe.
Sarah Oakes Muirhead as Mariane, in a frilly red confection with matching beribboned heels, and Gabriel Brown as her suitor Valère, long and slender in a lizard green suit, make a pair of airheaded lovers.
The production is faithful to the timeless tricks of the trade employed by Molière in the original three centuries ago, including several the playwright absorbed early in his career, while traveling with a comedy troupe and meeting up with roving commedia dell'arte companies from Italy. He adopted their stereotyped stock characters to caricature social types and the use of physical comedy to tell a story and change speeches on the spot to avoid censorship.
But Molière failed to evade censors in 1664 when he first staged this scathing satire of wealthy fools and sanctimonious power-seekers. Only after a five-year blackout was he able to stage the play again, this time with a new ending flattering to his patron, King Louis XIV.