Artist Theaster Gates focuses on urban renewal in Chicago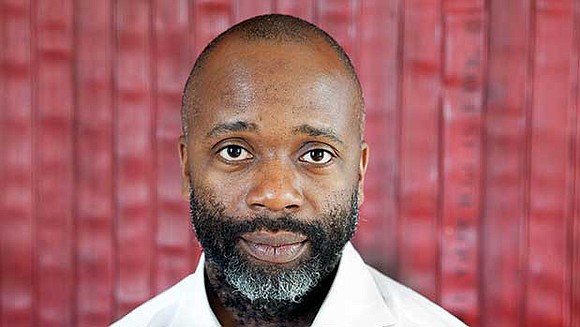 Since the 1960s, artists have been moving beyond galleries and museums to create works not confined by walls — from land art projects that extend across deserts to large-scale installations that envelop viewers in entire environments. Artist Theaster Gates expands his repertoire to encompass urban renewal, through an ongoing endeavor to rebuild blighted sections of the South Side community in his hometown, Chicago.
A sculptor, installation and performance artist, preacher and leader of his own gospel-rooted band, the Black Monks of Mississippi, Gates studied urban planning and ceramics at Iowa State University and earned a master's degree in fine arts and religious studies from the University of Cape Town, in South Africa.
Now director of the Arts + Public Life initiative at the University of Chicago, Gates also runs a nonprofit, the Rebuild Foundation, which has gutted more than 30 condemned buildings in the South Side and turned them into affordable artist live/work spaces and a community art center, the Stony Island Arts Bank.
Located 10 blocks south of the planned site of the Barack Obama Presidential Library, the art center is the repository of the Edward Williams Collection of 6,000 blackface caricatures — tchotchkes, figurines, ads for axle grease and kitchen goods, children's books, toys and other pop culture objects Williams has collected since the 1970s to remove them from circulation. Williams, a retired bank executive raised in the South Side, donated the collection to the center.
Gates, the son of a roofer, runs a tight ecosystem within the art world's top tier. He fetches up to $750,000 for sculptures and wall-mounted works that he fashions out of scrap materials salvaged from his neighborhood. He turns collectors of his works into backers of his community revival project. Profits from sales of his art support his studio and the Rebuild Foundation, which trains and employs a local workforce in demolition, masonry and other construction trades.
In 2017 alone, Gates has had two major shows: the ironically titled "The Minor Arts," at the National Gallery of Art, Washington, D.C.; and "But To Be A Poor Race," at Regen Projects in Los Angeles. The latter drew its title from "The Souls of Black Folk," a classic study by sociologist W. E. B. DuBois, whose maps of black ownership patterns in urban neighborhoods Gates echoes in his abstract paintings.
Photographs of Williams Collection objects were integral to a recent performance by Gates at the Harvard Art Museums that was billed as a "poetic sermon." Taking the role of a shape-shifting griot, a traditional African community historian and storyteller, Gates delivered a 50-minute a cappella vocal and visual performance that had the surging energy and emotional range of an Archie Shepp saxophone solo.
Gates entered the packed lecture hall wearing a short-sleeved red tunic and a red backpack, which he kept on through most of the performance. With his clean-shaven head and black-framed spectacles, he had a monkish appearance, and the robust body of a man who works on his feet rather than at a desk. He began by moving two whiteboards together as he started singing, then walked over to a lectern. His hands gripped the lectern as he lowered and raised his body with the pitch of his voice, which varied between vibrato and baritone and at times compressed into a deep growl.