Filling the gaps for formerly incarcerated Bostonians
Office of Returning Citizens director working to solidify partnerships, offer wraparound services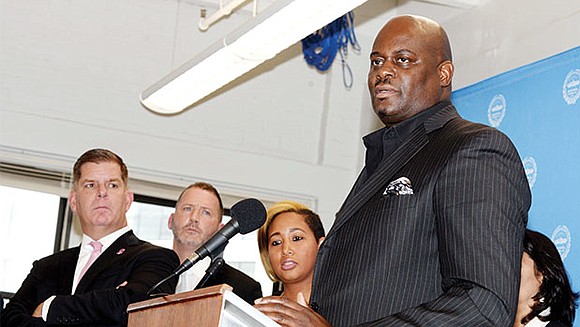 Kevin Sibley is director of the city of Boston's Office of Returning Citizens, a newly launched initiative within the Office of Public Safety to support individuals returning to Boston after release from state, federal and county correctional facilities, as well as others who were previously incarcerated. Sibley holds an MBA from Cambridge College and a bachelor's degree in Africana studies from UMass Boston. He has two decades of experience in community-serving nonprofits and grant-funded initiatives, including The Home for Little Wanderers, The Boston Foundation's StreetSafe Boston initiative, the John P. Holland Community Council, Greater Boston Kappa Charities and the GEAR UP program. Sibley serves as area director with the Kappa League, a national youth development program that teaches career readiness techniques and life skills with a collegiate focus to young men in grades 8–12, and is also an entrepreneur with his own travel agency. He lives in Dorchester. A few weeks into his new role, Sibley spoke with the Banner about the opportunities, challenges and goals he sees ahead.
What is the problem or challenge now – why is the Office of Returning Citizens needed?
The challenge is that we have over 3,000 citizens a year coming back from incarceration, and not having a solid plan or partnership with all the agencies in the commonwealth. We have some great agencies, but we want to create a partnership and collaboration with all of them to make sure our citizens are not overwhelmed, and can get the information and help they need.
The city's announcement said the new office will help fill gaps that exist within local, state, federal and county efforts. What are some of those gaps?
What I've been doing [in my first weeks] is meeting with various partners in housing, employment, education, and health. From health partners, we've discovered that if someone is incarcerated for over 30 days, and was homeless, they'll lose their chronic homelessness certification. Once they're released, they don't have that certification and have to start again. So that's one of the nuances we deal with. Another is lack of access to identification. [And] we're working with Lifeline cell phone providers, because having a cell phone is crucial. For employment and education, we are aligning ourselves with organizations that can help with job readiness.
What have been your first tasks on the job?
The key number one item we're completing is putting together an advisory team of partners. As of right now, we have approximately seven partners we're in discussion with. And that will grow. We have meetings all this week and next week to look at the partners, learn what their best practices have been and how effectively they've run their models.
What's exciting so far?
I've had an amazing reception from all our partners. They believe the office is a great idea and look forward to working with the city in this capacity.
How will you reach the people who need your services?
Directly, and through partners. We're having a website created now. Also, we'll be going into different prisons and jails throughout the commonwealth to talk about our program and what we can provide.