Edwards campaign takes aim at rival's electoral base
Karen Morales | 11/2/2017, 6 a.m.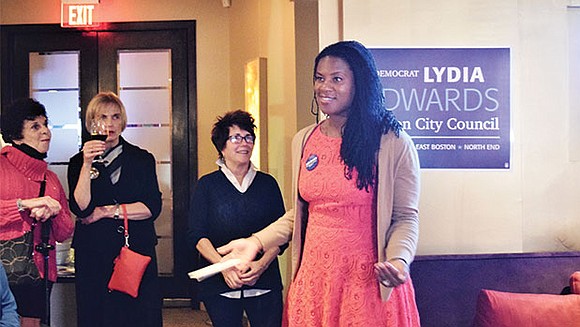 In the Sept. 26 preliminary election, Lydia Edwards finished just a percentage point behind North End resident Stephen Passacantilli. Last week she took the fight to the heart of his electoral base, holding a reception at a North End restaurant to meet with voters.
In the preliminary election for District 1, which includes East Boston, the North End and Charlestown, Edwards received 77 votes fewer than Passacantilli, with 3,547 votes. Edwards and Passacantilli advanced to the Nov. 7 general election, while East Boston resident Margaret Farmer, who received 522 votes, will not be on the final ballot.

The North End is a particularly challenging neighborhood for East Boston resident Edwards. Passacantilli won 71 percent of the area's votes in the preliminary to Edwards' 26 percent — but despite this, she told attendees of last week's reception, "I feel welcome here."
The gathering took place at The Living Room, an intimate space where attendees were able to have one-on-one conversations with the candidate.
"The North End is a pivotal community in this election," Edwards told the audience. "I don't want to continue seeing the privatization of our waterfront."
Edwards spoke about the biggest issues facing Boston's oldest neighborhood: longtime residents being priced out by new developments and the disruption of the community by student sublets.
"They are welcome here, but they should be respectful of the fact that this is our home where people get up for work in the morning and raise families," she said.
The seasoned community organizer said she would communicate with universities in Boston about controlling the amount of students taking up housing stock in the city.
Another pressing issue for the North End is the role of Airbnb short-term rentals. "It is one of the worst things to happen to our housing stock," said Edwards. The candidate supports Airbnb only if it's used "the way it was intended to," she said, "as side income for homeowners and tenants."
She added, "I would also like to see a registry created for all Airbnb hosts in Boston."

The successful advancement to the general election of Edwards, who is African American, may signal a demographic shift in voting power in District 1, a traditionally Italian-American stronghold. And against Passacantilli in particular, whose grandfather was a North End city councilor for more than 20 years.

Making inroads
Edwards won 49 percent of the votes in Charlestown, with 1,317 of 2,675 votes. Gabriela Coletta, the Edwards campaign manager, said this strong showing may be because of Edwards' educational background, including a law degree, appealing to the large number of master's and doctorate graduates in the neighborhood.
In East Boston, with its large proportion of Latino residents, Edwards took the lead with 52 percent of the votes, while Passacantilli received 36 percent.

These results could be an indication that the electoral strength of Latinos and millennials may soon eclipse the older white ethnic vote. For decades, Boston's Italian American demographic elected their own city councilors, state representatives, and senators.
A shift
Gloribell Mota, Lead Organizer for Neighbors United for a Better East Boston ran for state representative in 2007 and saw firsthand the limited political power immigrants and Latinos in East Boston had a decade ago.