Jackson, Walsh face off in final mayoral debate
Candidates clash on housing, policing, race issues
Karen Morales | 11/1/2017, 10:29 a.m.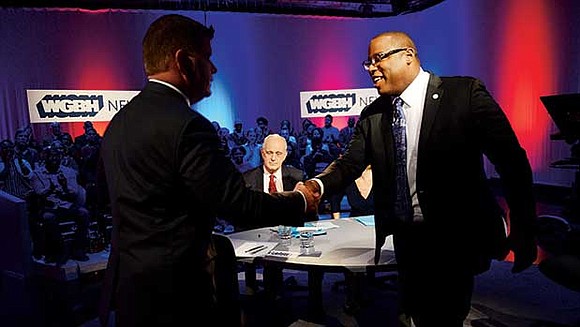 Mayor Martin Walsh and District 7 City Councilor Tito Jackson continued to wrangle over issues of affordable housing, racial inequality, economic development, transportation and education during their second debate last week.
Broadcast live from WGBH's Brighton studio, this debate was the last chance for the candidates to communicate their campaign platforms before a live audience and convince voters before the Nov. 7 general election. The event was moderated by Jim Braude and Margery Eagan.
In a poll conducted by WGBH, 26 percent of likely Boston voters said the biggest issue in the city is housing, while 11 percent said crime and another 11 percent responded with public schools.

Housing
As Walsh has stated throughout his campaign, his administration set out to create 53,000 new housing units over three years and so far, the city has permitted 22,000 units, with 9,000 of them designated as affordable.
In the debate, Jackson countered that the Mayor has permitted too many luxury units and not enough affordable ones, and maintained that instead of eradicating the Boston Redevelopment Authority as promised, Walsh simply rebranded it as the Boston Planning and Development Agency.
"The BPDA is not a transparent organization, it's not a city agency," said Jackson. "The money it collects does not go back to the city."
The mayoral challenger said he would eradicate the BPDA and create a new city department in its place. He also said he would utilize public land for housing and ensure that each development would have one-third low income units, one-third moderate income units, and one-third market rate units.
Moderator Braude said New York, San Francisco, and Los Angeles have mandated rent control as a solution to skyrocketing rents, and asked whether the candidates would consider doing the same in Boston.
"I don't believe rent control would work," said Walsh.
Jackson said he would consider it but proposed that he would work to raise the percentage of affordable units required in new developments from 11.5 to 25 percent and he would spend $5 million on creating flexible housing vouchers.
Walsh contended that although 11,000 vouchers are currently issued by the city of Boston, vouchers are a short term solution and he prefers to invest in permanent housing for residents.
As Jackson has stated many times throughout his mayoral campaign, he said the Walsh administration does not create enough affordable housing units and that the definition of affordable is still not accessible to many.
"Affordable for the Walsh administration is [for incomes of] $70,000 and up," he said.
Racial Inequality
Moderator Braude shifted the debate towards the topic of racial inequality and asked Jackson whether he thinks Walsh believes that black lives matter.
"The Department of Justice said he didn't do what he should have done," said Jackson referring to charges of racism at Boston Latin School last year and the mayor's delayed response to it. "Whether he believes black lives matter or not," he continued, "his actions are what I take issue with."
Those actions, Jackson said, include putting forward a RFP to do a disparity study after another disparity study found only 0.5 percent of city contracts are given to businesses owned by people of color, which Jackson said, "makes no sense."