Hearing focuses on Boston Public Schools' struggles with transit costs, appealing meals
Steep price tag for school choice, charters, special education door-to-door pick up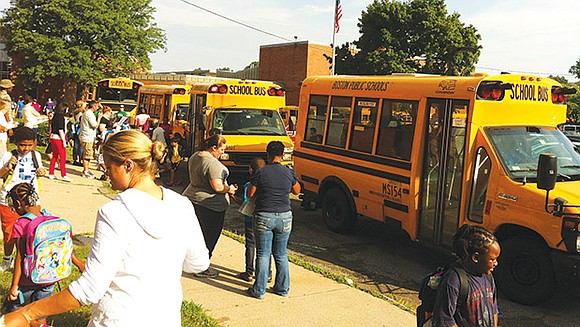 With the school budget proposal and accompanying Boston Public School officials in front of them, city councilors during a recent hearing pressed BPS to clamp down on its transportation spending and raised hopes that more resources could be channeled into the school departments' shoestring budget.
BPS officials, meanwhile, stressed the difficulty of limiting transit expenses with some cost contributors stuck outside of district control, coupled with the need to carefully ensure that attempts to trim spending do not leave children stranded. Still, officials said they have some ideas.
By the numbers
11 percent of yellow bus riders are served by door-to-door pick up and account for 37 percent of transit costs
11 percent of riders are charter school students and account for 13 percent of transit costs
1 percent of riders are parochial students and account for 2 percent of transit costs
<1 percent of riders are privately-placed special education students and account for 7 percent of transit costs
~33 percent of students account for 80 percent of transit costs
Getting from A to B on budget
Transportation seems to be a constant budget headache for BPS. The department's promises last year to trim $10 million from the budget last year never materialized, with $8 million being cut and then much of it added back in as new costs emerged.
Several councilors made clear they want to see change.
"We need to choose to spend less money on transportation and then find ways to make it happen," Annissa Essaibi-George said.
"We're trying to balance a budget — it is difficult when folks sit before us and say they'll save $10 million and then next year don't save it and ask for an additional $7.9 million," Tito Jackson said, rebuking staff for asking for a budget increase for next year.
While overall bus ridership declined last year, fuel prices were unexpectedly high (BPS officials say they do not expect the same surprise this year), as were health care costs, the number of students requiring pick up at their door and charter school transportation costs, according to John Hanlon, BPS chief of operations, and Eleanor Laurans, executive director of school finance. Further costs came from a legal change requiring that homeless children receive transportation from shelters or other temporary lodging to their original school for the entire academic year, even if they become permanently housed in another community. Previously, BPS only provided such students with transportation for the first 90 days after they lost permanent housing. As a result, the number of such children served shot up from 253 in Fiscal Year 2016 to 2,392 in Fiscal Year 2017.
Hanlon said high costs does not always mean poor practice.
"The transportation line within Boston Public Schools absolutely represents the equity line," Hanlon said.
Why are BPS's transit costs are so high? In part because the district serves a high number of special education students who require pick up at their doors, so while overall ridership has declined, the number of stops has increased over the past five years. Another cost driver is that the district puts emphasis on providing families with a wide range of school choice, Hanlon said. Other factors beyond district control are the requirement that it pay for transporting students to parochial and charter schools.