Divisions in political base present challenge for Walsh in Boston mayor's race
Interests of police unions, Trump supporters, black voters at odds
Yawu Miller | 5/17/2017, 10:21 a.m.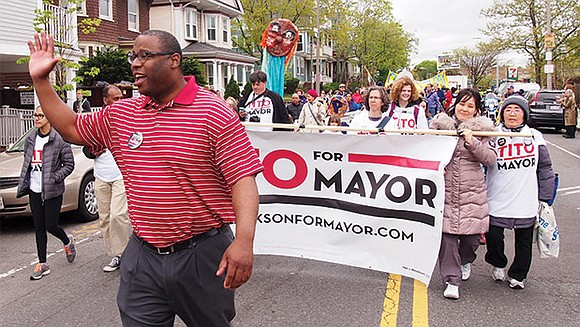 Unseating an incumbent mayor is a rarity in Boston, but fractures in Mayor Martin Walsh's electoral base could present leading challenger Tito Jackson with a golden opportunity.
In his 2013 upset win over at-large City Councilor John Connolly, Walsh, then a Dorchester state representative, prevailed by a thin three percentage-points. He drew heavily on support from predominantly black and Latino precincts in Hyde Park, Mattapan, Dorchester and Roxbury.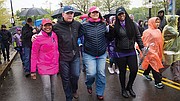 But now the disparate groups Walsh depended on for electoral victory find themselves at odds over critical issues. Black voters want body-worn cameras, a civilian review committee to investigate police abuse and more black, Latino and Asian officers on the force — measures opposed by the police unions who have backed Walsh with votes and campaign contributions.
Many residents are calling for greater affordability in newly-built housing, while real estate developers who back Walsh with campaign funds are meeting the administration's ambitious housing goals with an abundance of luxury units beyond the reach of most Bostonians.
And in the mayor's own Dorchester political base, a significant number of Democrats who voted for Donald Trump might be alienated by Walsh's public stands against the president's anti-immigrant and anti-Muslim executive orders.
If Jackson is able to capitalize on the tensions Walsh is facing as the gulf between haves and have-nots widens in Boston, he may be able to broaden his support beyond the Roxbury-based district he currently represents on the council.
Trump Democrats
To peel back the layers of potential fractures in Walsh's base, one need look no further than recent elections, where precincts with high percentages of Walsh supporters went in heavily for Trump. For example Ward 16, which backed Walsh 76 percent — his highest margin in any ward — is home to many of the cops and firefighters who have donated heavily to the mayor's campaign. And it's also home to the precinct with the highest percentage of Trump voters in Boston — precinct 12. There too Walsh scored his highest margin of victory in the city — an impressive 86.8 percent.
In Savin Hill's Ward 13, Precinct 10, Walsh's home district until he moved into Lower Mills in 2015, longtime union activist and Walsh supporter Bobby "Sauce" Callahan explained his departure from the Democratic Party in a Boston Herald column last week, railing against Hillary Clinton, Elizabeth Warren and the Democratic establishment. Other union activists took notice, with several prominent firefighters re-posting Callahan's diatribe on their Facebook pages.
Ward 13 is at the center of Walsh's base of support, which extends into South Boston's wards 6 and 7, both of which backed Walsh, and both of which contain precincts where the Trump vote exceeded 30 percent — more than twice the city average of 13.8 percent.
Union ties
The predominantly white labor unions whose members live in Dorchester — including firefighters, cops and building trades workers, have done well under the Walsh administration. But they stand in stark contrast to other public employee unions. The Boston Teachers' Union is the largest of several working without a new contract during the three-and-a-half years of the Walsh administration. Last year, budget cuts to schools prompted three student walk-outs and a picket line at the mayor's State of the City address. This year, the Walsh administration invested in expanding learning time at some schools and funded an increase in the number of early learning seats, yet cut the budgets at 49 of the district's 126 schools.