Fear and defiance greet House Republicans' American Health Care Act
Sen. Markey: health care bill "dead on arrival" in Senate; Political pain promised for House's yes-voters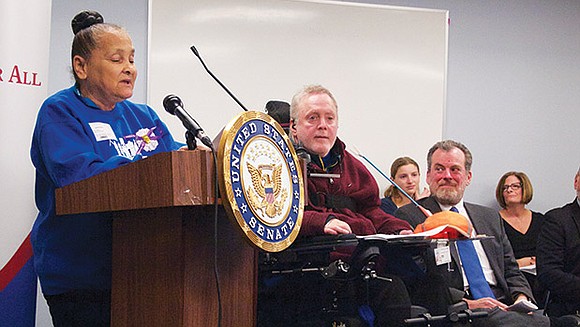 Sen. Edward Markey and other speakers at a Health Care For All panel on Monday morning spelled out the human pain that would be dealt should the Donald Trump and House Republican's health care bill pass. At the end of last week, the House rushed to pass a bill that would repeal the Affordable Care Act and replace it with a health care policy that is expected to roll back protections on people with preexisting conditions, threaten those dependent on Medicaid and raise prices on seniors and many who are not already healthy and affluent. The Congressional Budget Office estimates the bill, the American Health Care Act, will result in loss of coverage for 24 million Americans by 2026, but has yet to finish its analysis. The House voted 217-213 in the favor of the AHCA.
Many speakers said legislation could bring drastic consequences to them or members of their families. Sen. Markey offered a spot of hope, predicting the bill would collapse in the Senate. Republicans, he said, will have a tough fight to balance more moderate Senate Republicans with demands of the radical Freedom Caucus.
"The bill that passed House representatives is dead on arrival in the Senate of the United States," Markey said.
The bill will move more slowly in the Senate, where legislators are required to wait for completion of the Congressional Budget Office analysis before voting. Some Senate Republicans said they would write a new bill from scratch. In such a case, Markey said Massachusetts delegation would be sure to oppose any new bill that turns out to be only a watered down version of the American Health Care Act.
"We will not pass 'Freedom Caucus lite,'" Markey said.
Many also are starting to wage political war against the representatives who passed the bill — each of whose vote was critical to the passage.
The House bill allows states to alter some current protections such as required minimum benefits. Repeal of the ACA could also mean that insurers once again are able to set a lifetime cap on expenses for what are deemed essential health services. Under the bill, states could seek a waiver to permit insurance companies to charge people differently based on their current health — meaning people with pre-existing conditions potentially could be charged more. The federal government would set aside $8 billion to help subsidize people facing large premium increases and established other programs states can opt into to help cover high-risk pools. Health economists have said these policies have a poor track record. Planned Parenthood, which provides a variety of women's health services including cancer screenings in addition to abortions, would lose significant funding.
Brian Rosman, policy director of Health Care For All, said the repeal and replace is a double blow. He warned attendees at the panel that Massachusetts's history of so-called Romneycare does not spare it, given that the previous program relied on federal partnering.
A life-or-death question
With the Senate's actions uncertain, the possibility of any policy that includes a lifetime coverage cap and higher rates for people with pre-existing conditions sparked fears.