A Parisian feast
Saying 'au revoir' to the City of Light
By Charlene Peters, More Content Now | 3/31/2017, 6 a.m.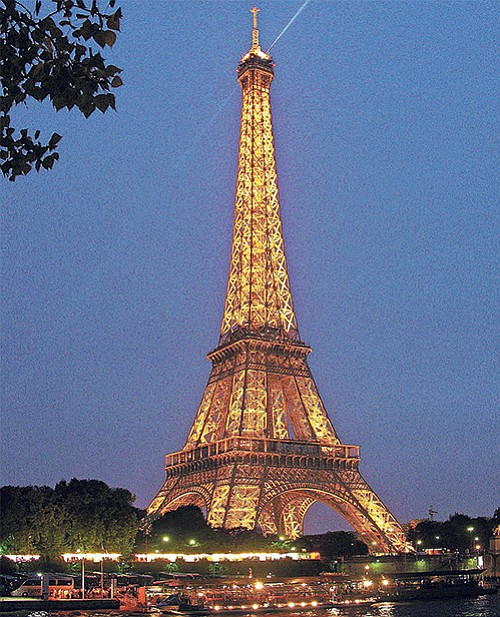 During a year spent living out a classic dream, I developed a love/hate relationship with Paris. Yes, its history, fashion, food and scenery stole my heart. But, at the same time, the reality of wading through bureaucratic red tape to obtain a visa, unlocking my SIM card to change mobile phone providers and opening a French bank account can be compared to an Olympic sport.
My petite Parisian apartment in the 15th arrondissement with 75 winding stairs (and no lift) may not have been ideal, but it offered a fabulous close-up view of the Eiffel Tower from two windows. Endless walks in search of the city's historic landmarks, obvious on a map but always farther than expected, provided my cardio.
Nothing in my American lifetime had prepared me for the rigors and challenges of living in Paris. But on the plus side, it didn't take long for me to learn which boulangerie, produce, wine and cheese shops were open on which particular day. Wine purchases were a breeze, with five options around the corner. I settled in nicely.
A year later, I turned in my apartment keys and treated myself to a spectacular au revoir to Paris. As I stood on the rooftop Skyline Bar at Meliã Paris La Défense on my last night's stay, I gazed, still awestruck by the distant view of the architectural silhouettes to which I'd become accustomed. The Eiffel Tower, Arc de Triumph, Sacre Coeur and Champs-Élysées below had become set scenes in my everyday life. Yes, I had become comfortable with my Parisian lifestyle, with its crusty, warm baguettes and cornucopia of farm-fresh cheeses easily accessible.
On my last full week, I headed to a more affordable location on the outskirts of Paris, yet still within Metro city limits. I spent my final days indulging in all things rich and delicious as part of my Meliã luxury experience. First stop and relatively new to the Parisian landscape was The Fondation Louis Vuitton. This Frank Gehry- designed structure is a spectacular mélange of metal and glass forged into the shape of a ship. Inside, each gallery space was like a rabbit hole designed to alter one's mindset, from Andy Warhol portraits to a series of millennial dancers on film, projected in a room purposely overheated to recreate the atmosphere of a dance club. The Fondation's signature restaurant, Le Frank, presented each dish in calculated yet artful designs, in homage to the architectural legend.
Rising above the prior evening's Champagne hangover acquired during a dinner of octopus at my hotel's Le Miroir restaurant, my appetite was restored once I savored a gazpacho puree at Le Frank, abundant with (detoxifying) garlic chunks. I soldiered on to do justice to the next course, cod with sea foam, mashed pomme and onions sliced like fettuccini.
From Fondation Louis Vuitton, a stroll through the trendy Marais district — plus about five hours of walking to the heart of the Gold Triangle on Winston Churchill Avenue — provided me with an appetite for dinner at the Mini Palais. Its otherworldly cheese popovers, a coupe de Champagne, saumon rôti aux épices, petits pois au lard fume and a glass of Saint-Emilion Grand cru transported me to the grandeur of a certain time and place.