Puerto Rican debt crisis enriches CEO charged with fixing it, protesters say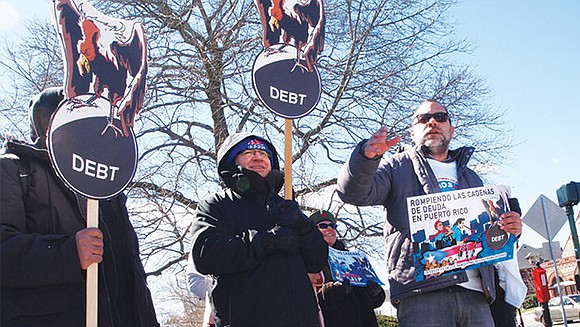 Last week, a small team of protestors marched in Newton Center outside BayBoston, a financial services private equity firm whose owner, they say, has lined his pockets through helping create Puerto Rico's debt crisis, before becoming appointed one of the handful of people charged with reconfiguring the island's finances, and now is profiting from providing high-interest loans to impoverished citizens who have few other options.

The man in question is Carlos Garcia, owner of BayBoston, chair of the Caribbean Financial Group, member of Puerto Rico's Fiscal Control Board and a former top executive at Santander Bank.
As a Control Board member, Garcia shares responsibility for implementing measures to resolve the debt crisis — wielding an authority that supersedes that of elected officials. Demonstrators call for him to step down from the Control Board, given what they say are egregious conflicts of interest.
Fiscal Control Board
The Control Board approved a ten-year fiscal plan in mid-March with measures that include capping Medicaid benefits, privatizing some public assets, slashing public pensions by 10 percent, furloughing tens of thousands of government workers and teachers and eliminating Christmas bonuses. According to NBC News, the board members promised to ensure pension cuts do not push anyone below the federal poverty line.
In response to Control Board urging, the island's government also declared in early March that it would seek to reduce expenses by closing and selling more than 300 public school buildings and stripping more than $300 million from the University of Puerto Rico's budget.
"Almost four million Americans are fleeing [their homes in Puerto Rico] to come here to better opportunities," said Damali Vidot, Chelsea city councilor at-large and city council vice president, during last week's demonstrations.
According to Otoniel Figueroa-Duran, an organizer of the demonstration, conflicts of interest color the Control Board's efforts and their actions reflect that the wellbeing of those living in the American territory is not their top priority.
"The Fiscal Control Board is not responsive to the people of Puerto Rico but to the banks," Figueroa-Duran said. "That's why it's pushing to close schools, hospitals — because they do not care about the people. Working families should not bear the brunt of this disaster."
Given the powers of the Control Board, its members could choose to change or scale back the plan even though it has been approved, according to Figueroa-Duran.
Profiting off a growing crisis?
Garcia served as an executive of Santander, before in 2009 leaving for a time to head Puerto Rico's Government Development Bank. While here, he issued COFINA bonds on behalf of the government. These were a new kind of municipal debt used to refinance existing bonds and secured by regressive sales and tax receipts. Essentially, they directed sales tax revenue to repay bondholders, instead of directing it to shoring up public services, a move demonstrators criticized in a Dec. 2016 protest. Among the banks hired to issue these COFINA bonds and paid hefty underwriting fees to do so was Santander bank.