DaRosa property maintenance company rose from 2015 blizzards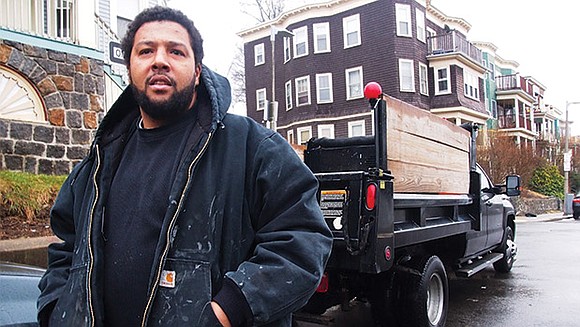 Remember the winter of 2014-15, when Boston saw 110 inches of snowfall, most of it walloping the city in January and February?
While that season may have brought merriment to the sledding set, it presented plenty of headaches for commuters, shopkeepers and homeowners struggling to keep sidewalks clear and monitoring roofs and gutters anxiously as layers of dense snow piled up.
Get in touch
DaRosa Property Maintenance
Phone: (617) 652-2784
For Domingos DaRosa, the record-breaking winter also sowed the seeds for a new business.
"Sometimes opportunities come to you, and you just gotta recognize when they do," says DaRosa, who started DaRosa Property Maintenance LLC in 2015.
The 39-year-old father of four had been helping his parents, neighbors and friends for years with snow removal and other odd jobs. When those extraordinarily snowy months hit, his phone started ringing.
"I got calls about ice dams, water leaks in roofs, snow-related issues," says DaRosa. The timing was right. He had been unemployed for a few months after leaving a 21-year stint at the city of Boston's Centers for Youth and Families, where he also was active in SEIU Local 888. "I went ahead and ran with it."
He purchased snow blowers and gathered some helpers, mostly family members. Within two weeks, he says, he had customers across eastern Massachusetts — Taunton, Easton, Billerica — all through word-of-mouth referrals.
Helped along with $20,000 from his mother ("I want my inheritance now," he told her, "so you can see what I do with it."), he invested in tools and a truck, formalized a limited liability company (LLC), and was on a new path as a business owner.
Low overhead
The business has expanded into property maintenance and repairs — from landscaping and groundskeeping to masonry and "hardscaping" — and general contracting for remodeling and light demolition work.
DaRosa Property Maintenance clients include private homeowners and condominium associations. In addition, he has a few contractors who subcontract pieces of their projects out to him. He enjoys the work he gets through referrals from Ethos, a Jamaica Plain-based nonprofit that offers services for area seniors, including home repair assistance.
"I'm a community person," says DaRosa. "I love my city, I love meeting and helping people. If I can meet someone and make a few bucks at the same time, I'll take it."
DaRosa arrived in Boston from Cape Verde at nine months old. While his family lived on the Dorchester/Roxbury line, he feels he grew up in the whole city, roaming across neighborhoods and making friends all over. At Madison Park High School he focused on automotive mechanics, and in his 20s he earned an associate's degree in applied science from Benjamin Franklin Institute of Technology.
He first considered an automotive business but decided the overhead costs would be too high from the start.
With the property maintenance business, he can keep overhead down by not having a shop space and by accumulating expensive tools gradually. Larger equipment like mini-excavators can be rented per job.
"I would recommend that to everyone — renting equipment helps cut expenses," he says. "I don't have to worry about storage or loans for equipment or repairs, which is a big thing on heavy machinery."