Suzan-Lori Parks' play, 'Topdog/Underdog,' delivers tough truths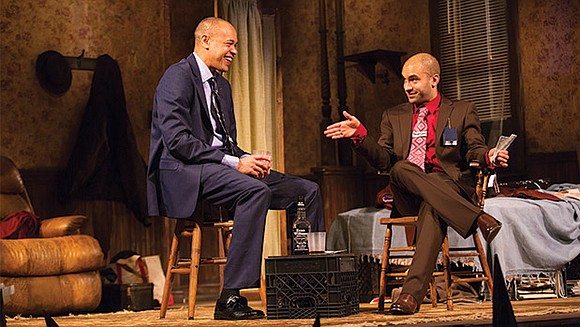 In the opening scene of the searing Huntington Theatre Company production of the Suzan-Lori Parks play, "Topdog/Underdog," Booth, a young black man, is practicing his skills at the street-hustling game of three-card Monte.
"Watch me close watch me close now," Booth chants in the fast, singsong language of the game.
With mounting ecstasy, Booth imagines himself as a master player. He spreads his arms upward and, standing in pulsing light, resembles a high priest. His makeshift podium of milk crates becomes his altar and his singsong chant an incantation to summon power he cannot find within himself.

In her brilliant Pulitzer Prize-winning play, Parks creates two characters that have been dealt a poor hand. She turns three-card Monte into a metaphor for the struggle of Booth and his older brother, Lincoln, for power and self-esteem. It is a win-or-lose game that the men wage against each other and themselves.
Rich with paradox
Her play is rich in metaphors, starting with the ironic names of the brothers, namesakes of John Wilkes Booth, actor and assassin, and his victim, President Abraham Lincoln, who led the country out of the Civil War and ended its era of slavery.

Their drunken father gave them the names as a joke. Their parents deserted them as youngsters, leaving each boy a wad of cash — $500. Lincoln has spent his money but Booth hoards his in his mother's tightly-knotted stocking as a nest egg for his future.
On stage through April 9 at the Avenue of the Arts/BU Theatre, the riveting Huntington production capitalizes on the playwright's own arsenal of sleight-of-hand tricks. Rich in theatrical wiles, the production, like the play, delivers tough truths under the guise of terrific entertainment.
A MacArthur "Genius Grant" recipient, Parks is a dramatist whose plays explore the legacy of slavery as well as the fundamentals of human nature. Her characters often are shackled to a painful past and they may or not rise above their worst impulses.

In "Topdog/Underdog," Parks creates a set of paradoxes. The play is both street-smart comedy and taut drama. Drawing from medieval allegorical plays, its two characters bear symbolic names and roles, but they are also fully fleshed out characters.
Tony, Grammy, and Drama Desk Award winner Billy Porter directs the Huntington production, with sets and costumes by Clint Ramos and lighting

by Driscoll Otto, the same team he worked with when directing the Huntington's 2015 delirious and scathing production of George C. Wolfe's play, "The Colored Museum."

Wolfe directed the 2001 Off-Broadway premier of "Topdog/Underdog" at the Public Theater as well as its Broadway debut the following year, which won the 2002 Pulitzer Prize for Drama.

Ominous and edgy
The Huntington staging of "Topdog/Underdog" is first-rate, rising to the challenges of a play that combines harrowing bleakness with gut-level humor, demanding intense vocal, physical and emotional gymnastics from its two-member cast. Matthew J. Harris (Booth) and Tyrone Mitchell Henderson (Lincoln) turn in heroic performances as two very different siblings who share a painful past.