Lower Mills optical shop offers full service and a relaxed vibe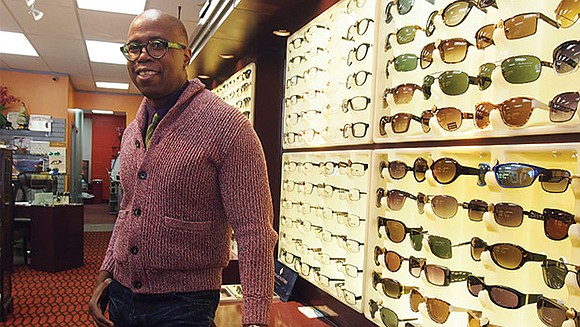 At Eye & Eye Optics, owner Bobin Nicholson wants the experience of choosing the right eyeglass frames to be as enjoyable and relaxing as the reggae music he loves.
"I want it to be an easy fit. I want my audience to be comfortable," says Nicholson, who is a working musician with his own band in addition to being a licensed optician.
In 2010, the Dorchester resident purchased the former Peters Optical business in the Lower Mills neighborhood and retrofitted the shop to create a full-service eye care facility with an ophthalmologist on staff.
On the web
Eye & Eye Optics is at 2271 Dorchester Ave. in the Lower Mills section of Dorchester. Visit them online at: http://eyeandeyeoptics.com
Its location on a Dorchester Avenue stretch jammed with businesses new and old is fortunate.
"There are a lot of great businesses. That boosts foot traffic," he says, noting also that it draws customers easily from Dorchester, Milton and Mattapan.
As a young man arriving from Jamaica 34 years ago to attend Berklee College of Music, Nicholson could not have predicted that he would craft dual careers in music and eyeglass entrepreneurship.
But in a way, one led to the other.
"I was 100 percent into music, music, music," he says, "but when I graduated, my mother said, 'Now you need to find a real job.' Living in America, the whole music scene is different. In Jamaica, you can make a living on music. Here, it's more challenging. It affects the quality of life you want to live."
A serendipitous path
Around graduation time, the young musician's glasses were accidentally knocked off and stepped on during a performance. When he went to replace them, the optician at the chain optical shop happened to be a bass player, and they got to talking. Nicholson asked him how he got his job. Before long, he had a job at the store selling eyeglass frames and was on a path toward optician school and an apprenticeship. Once licensed, he began working at Harvard Vanguard's Kenmore optical office, putting in nine years as a staff optician and nine years as a supervisor for optical services.
The Harvard Vanguard experience steeped him in strict quality standards and gave him enough free rein as a supervisor to gain true experience in running an eyewear business, he says.
In 2010, the opportunity to buy Peters Optical popped up unexpectedly. He happened to step into the shop out of interest. When he identified himself as an optician, the owner, who had been looking to retire, asked Nicholson out of the blue if he'd be interested in buying the shop.
"It was a destiny thing. No one told me it was on the market," Nicholson says.
Labor of love
At that point, his 18 years of work experience paid off in another way. With the economic recession putting a business loan out of reach, he was able to tap accumulated savings and 401(k) funds to help buy the business, invest in equipment for eye exams and redecorate the shop.