Vijay Iyer at Sanders Theatre
Susan Saccoccia | 3/20/2017, 9:46 a.m.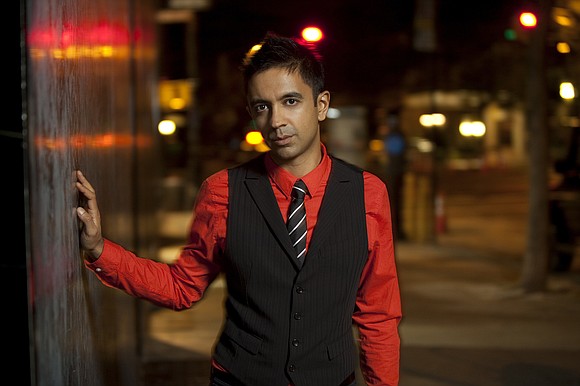 Composer-pianist Vijay Iyer, DownBeat Magazine's 2015 Artist of the Year, is also a scholar. He holds a PhD in the cognitive science of music, and, while carrying on an omnivorous schedule of collaborations with dancers, poets and visual artists, he is a professor of music at Harvard University.
On leave from Harvard during this academic year, Iyer, 45, returned on Thursday night with his latest ensemble, the Vijay Iyer Sextet to perform a concert at Harvard's Sanders Theatre.
Presented by the Celebrity Series of Boston, the concert had the feeling of a reunion. A suave, personable host, Iyer began by asking the audience who filled the 1,000-seat theater, "How are you holding up in this peculiar time in our history?" "Find ways to resist," he said to a round of applause, and promised, in the music, "something you can take with you."
Iyer introduced his fellow musicians: Graham Haynes, on trumpet, flugelhorn and cornet; Mark Shim, on tenor saxophone; Steve Lehman on alto saxophone; and the members of his 15-year-old trio, bassist Stephan Crump and drummer Marcus Gilmore.
Iyer pointed out that two of the musicians are relatives of iconic drummer Roy Haynes. Graham Haynes is a son of Roxbury-born Haynes, who turned 92 on Monday; and Gilmore is his grandson. Iyer greeted Haynes family members in the audience, who waved back from their seats.
Over an unhurried two hours without intermission, Iyer, playing electric and grand pianos, led the sextet in performing seven of his compositions.

From the start, the musicians demonstrated both the individual character and cohesion of their voices. Iyer began on his electric piano, sending out a constellation of sweet chiming sounds and then hunkered into a chugging, percussive beat picked up by the three horn players, who injected an infectious note of R&B into the passage. Iyer then switched to the deeper tone of his acoustic piano and Lehman's alto sax jabbed in hard-bop style above the textures of Crump's bass and Gilmore's drumming.
A young musician with the sound of an old soul, Shim joined in on tenor saxophone, trading muscular phrases with Lehman to Iyer's increasingly fast and intricate piano work. Then the ensemble downshifted to a slow drum solo by Gilmore, followed by an exhilarating joy ride combining Lehman's furious vibrato, at times sounding like the piping of a non-western wind instrument, with a mellow cornet passage by Haynes. Shim joined in, adding a beautiful deep tone with his tenor sax. Haynes responded with a spare solo that concluded with plaintive phrases evoking the cries of a psalm.
As a pianist, Iyer sets the pace, often with incantatory repetitions that hover between hard bop and raga, evoking his South Indian heritage. Born and raised in upstate New York, he is the son of Indian Tamil immigrants. He brings the world into his music with a free-ranging appetite for inventive collaborations rivaled only by his friend and fellow MacArthur "genius" grant recipient Jason Moran, also a pianist, composer and teacher.
As Iyer strides, strolls, sashays and saunters through a song, he injects pauses that call to mind Thelonious Monk, a pianist he cites as an inspiration. Now and then he delivers a serene melodic passage that summons pianist Bill Evans.