'Grand Concourse' characters embody the human condition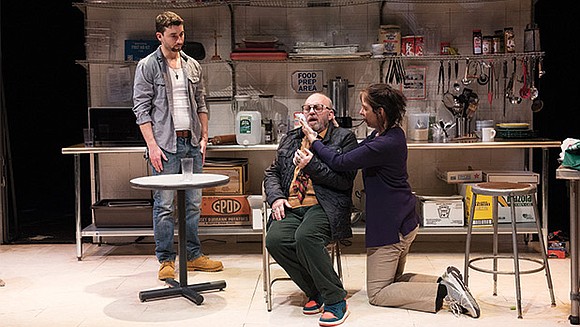 Although modest in its setting, a Catholic soup kitchen in the Bronx, Heidi Schreck's 2014 play "Grand Concourse" is, as its title suggests, grand in subject: what it takes to lead a good life. Will its four characters make it?
The play draws its name from the Grand Boulevard and Concourse, the main road running through the South Bronx, the poorest urban county in the nation. The word "concourse" also has another meaning, says Schreck, "a coming together of people. … a sort of grand meeting."

The soup kitchen in her play brings together a quartet of characters who are easy to identify with even if they are not all easy to like: Shelley, a nun who has managed the kitchen for 15 years; Oscar, a security guard from the Dominican Republic; Frog, a homeless bohemian; and newcomer Emma, a 19-year-old college dropout.
Brooklyn-based Schreck, an award-winning playwright, actor and screenwriter, once worked at a Catholic soup kitchen in the Bronx. She saw that like the people who came for food, the men and women in the kitchen often were seeking help, too. And like her character Shelley, Schreck found inspiration in Dorothy Day (1897-1980), who devoted her life to serving the urban poor and famously wrote, "The Gospel has taken away our right forever to distinguish between the deserving and the undeserving."
In the daily regimen of a soup kitchen, even with its hallowed mission, neither forgiveness nor goodness comes easy. Schreck's four characters test, tempt and care for each other. Shelley, in her late 30s, and Frog, in his 60s, are further along in their life journeys, and, in very different ways, each is an old soul. Their younger companions, Oscar and Emma, are vulnerable to rash behavior and bouts of remorse.
Now through April 1, the Speakeasy Stage Company is presenting the New England premiere of "Grand Concourse" at the Calderwood Pavilion of the Boston Center for the Arts in the South End.

Staging and acting work in seamless harmony in this fine production, directed by Bridget Kathleen O'Leary, assistant artistic director of New Repertory Theatre in Watertown, with sets by Jenna McFarland Lord; costumes by Chelsea Kerl; lighting by Karen Perlow; and sound design by Lee Schuna.
Dark wisdom
Running for an hour and 40 minutes without intermission, the play unfolds as a series of 17 scenes. Its gentle pace is marked by the daily routines of chopping vegetables and lugging pots from counter to stove. Yet here in the kitchen, Shelley, Oscar, Frog and Emma each change one other, mainly for the better.
Wooden arches and worn stained glass windows evoke the kitchen's setting, a church basement. The fully equipped industrial kitchen is crowded with shelves, and standing among the pots and pans on one shelf is a small crucifix.
Here, Shelley begins her day with a moment of prayer, set to a microwave oven timer. Karen Perlow bathes Shelley's profile in warm light as if she were a figure in a Renaissance devotional painting. Shelley utters a line or two on behalf of victims of famine and war in between long silences, and occasionally lets slip that she'd like her ailing father "to hurry up and die."