David Oyelowo stars in 'A United Kingdom'
Kam Williams | 3/2/2017, 6 a.m.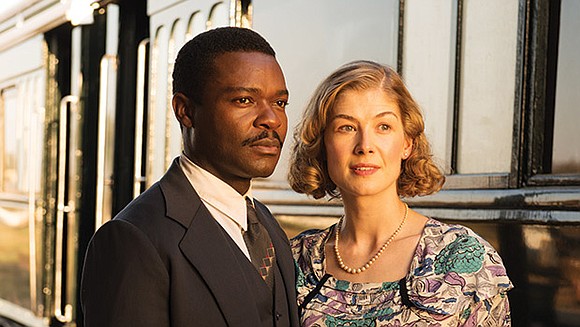 David Oyelowo is a multiple Golden Globe- and Emmy-nominated actor and producer who has quickly become one of Hollywood's most sought-after talents.
Later this year he'll be seen in the third film from the Cloverfield horror franchise and as the lead in an as-yet untitled Nash Edgerton film co-starring Charlize Theron, Joel Edgerton, Thandie Newton and Amanda Seyfried.
Oyelowo gained international acclaim in 2014 starring as Dr. Martin Luther King Jr. in Ava DuVernay's "Selma." For his performance, he nominated for a Golden Globe Award for Best Performance by an Actor in a Motion Picture – Drama.
Most recently, he starred opposite Lupita Nyong'o in Mira Nair's "Queen of Katwe," earning a NAACP Image Award nomination for Outstanding Supporting Actor. His many additional film credits include "Interstellar," "A Most Violent Year," "Captive," "The Butler," "Lincoln," "Middle of Nowhere," "Jack Reacher," "The Paperboy," "Red Tails," "The Help" and "The Last King of Scotland."
On the small screen, Oyelowo starred in the HBO film "Nightingale" and has collaborated with HBO on several other occasions, including a starring role in Kenneth Branagh's 2006 production of "As You Like It," playing Orlando opposite Bryce Dallas Howard, and a lead role in the mini-series "Five Days," for which he won a Satellite Award for Best Actor in a Miniseries or a Motion Picture Made for Television.
In 2008, he starred in the critically-acclaimed "The No.1 Ladies Detective Agency," directed by the late Anthony Minghella, and appeared in ABC's 2008 Golden Globe-nominated production of "A Raisin in the Sun" alongside Sanaa Lathan, Sean Combs and Phylicia Rashad.
A classically-trained actor, Oyelowo recently appeared as the title character in the New York Theatre Workshop's Off-Broadway production of "Othello." He got his start on stage in 1999 with The Royal Shakespeare Company, and was the first black actor to play an English king in a major production of Shakespeare, as King Henry VI in RSC's 2001 production. That performance won Oyelowo the 2001 Ian Charleson Award, presented in recognition of the best classical stage performances in Britain by actors under 30.
Here, he talks about his latest outing, playing opposite Rosamund Pike as an African king who falls for a British commoner in "A United Kingdom."
What interested you in "A United Kingdom"?
David Oyelowo: The fact that it was a story I felt I should know but I didn't know. And as I dug deeper, I appreciated the enduring love that Seretse and Ruth had for each other. After I watched the film, I went home and looked up their story as well as the history of Botswana, since I'd known nothing about either. One of the amazing things about this experience for me has been the Google trail. There's so much to learn about them and African history.
Did you speak to Ruth and Seretse's descendants in preparation for the role?
DO: Yes, and we even shot on location in Botswana.
Unlike many other actors, you have managed to avoid being typecast. What is your secret?