Governor Baker appoints members of Black Advisory Commission
Members represent diverse nationalities, different regions of Massachusetts
Yawu Miller | 3/1/2017, 10:51 a.m.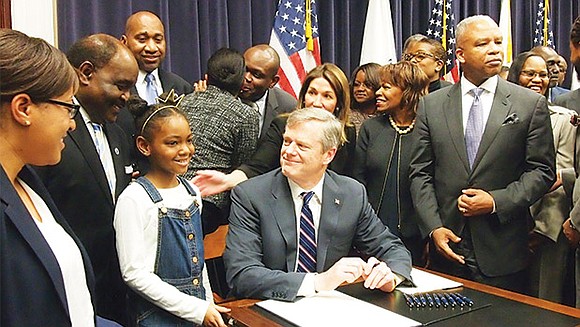 Governor Charlie Baker last week announced appointments to a new Black Advisory Commission, a group of people of African descent charged with weighing in on matters of concern to black communities across Massachusetts.
"We take this whole notion as an administration of 'E pluribus unum' — Out of many, one — extremely seriously," Baker said. "For us to succeed as a commonwealth, it's important that all voices believe they have a chance to be heard."
Baker made the announcement during a State House press conference along with black officials from his administration who will serve on the commission and several members of the Massachusetts Legislative Black and Latino Caucus.
Geographic diversity
The commission, which will meet with Baker quarterly, so far includes 23 men and women from across the state working in the corporate, government and nonprofit sectors. Baker said the group likely would settle on two or three issues a year on which to work.
"The administration recognizes that statewide collaboration with black leaders, experts and other community stakeholders will help produce solutions to many challenges, and, accordingly, will advance the interests of all members of the commonwealth," said Anthony Richards, the newly-appointed director of community affairs for the Governor's Office.
Baker gave no specific examples of issues on which the group would work. However, among the goals listed in his 2014 campaign Urban Agenda are alternative sentencing, more affordable higher education, an increase in the minimum wage and increased access to state contracts for minority businesses among its goals.
While the Baker administration, two years into his term, has made limited progress on these agenda items, his supporters tout his successes. Secretary of Labor and Workforce Development Ron Walker cited a halving of the unemployment rate for blacks in Massachusetts from 12 percent to 6 percent as the state's economy continues to grow.
"That's in the context of over 100,000 new jobs in the commonwealth," Walker said.
Advisory commission Chairwoman Deborah Enos praised the Baker administration for its work highlighting the challenges blacks face in Massachusetts.
"We can't begin to fix the issues we don't acknowledge," she said.
State Rep. Russell Holmes said the commission's work could complement the work of the Black and Latino Legislative Caucus.
"I feel like I have a new family," he joked.
Whether or not the elected officials' interests coincide with the commission's remains to be seen.
This year, the Black and Latino Caucus has prioritized criminal justice reforms, including ending mandatory minimum sentences for nonviolent drug offenses, reforming bail laws to keep people not yet convicted of crimes out of jail and the reduction of fees that, if not paid, can land ex-offenders in jail without trial or legal representation.
Baker's Urban Agenda also calls for reforms, including a reduction in the number of people incarcerated, job skills training and education for offenders and drug treatment.
State Sen. Linda Dorcena Forry, who also attended the press conference, said the commission represents an opportunity for collaboration.
"We do see this group as an additional benefit to black communities in Massachusetts," she said. "Hopefully we'll be able to tackle key issues."