With influx of addicts, needles proliferate in Boston parks
Statewide heroin problem has local impact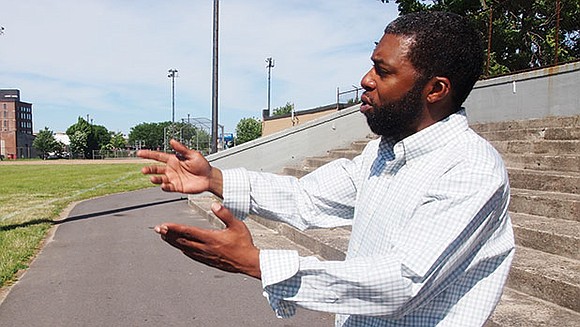 Domingos DaRosa remembers the summer afternoons before Clifford Park was overrun by junkies.
"There were softball games," he told the Banner. "You had people sitting under the trees. People would come out from the swimming pool and hang out. Now people barely use it."
DaRosa, who coaches and manages the Roxbury Bengals Pop Warner football team in the park, regularly sweeps the playing field for discarded needles before he allows children to practice there. He makes weekly calls to the city's 311 hotline to report the proliferation of needles and heroin users, but he said it's an uphill battle getting city services to clean the park.
The city of Boston operates a Mobile Sharps Team responsible for removing needles from public spaces. Last year the team recovered more than 20,000 needles across the city. In the city's fiscal year 2018 budget, the administration of Mayor Martin Walsh has proposed a funding increase for the Mobile Sharps Team that spokeswoman Laura Oggeri says will double the team's capacity.
But for DaRosa, help often doesn't come fast enough. Sometimes, he said, it takes days for the city to respond to a request.
"I've lost a lot of participants due to the needles," he said. "The needles are in the grass. They're on the bleachers. We tell the kids, if they see one, don't pick it up. Just tell an adult. It's just sad."
With three baseball diamonds and basketball and tennis courts, Clifford Park is a nearly-quarter-mile-long expanse of natural turf that in its better days was a magnet for sports and outdoors enthusiasts. Sitting at the edge of the Newmarket Business District and the eastern terminus of the so-called Methadone Mile, the park is close to drug treatment facilities and shelters and the heroin-addicted population that has converted much of the area into an open-air shooting gallery.
"Since they closed the Long Island homeless shelter three years ago, Lower Roxbury has borne the brunt of the epidemic," noted former state Representative and longtime community activist Carlos Henriquez. "I think we're overburdened."
Like DaRosa, Henriquez works with teens in the park. He, too, has pleaded with city officials for regular cleanups of Clifford Park. In one corner, next to the park's concrete bleachers, he points out a collection of debris left behind by drug users, including human waste. As he points to an area commonly used for shooting up, a man jogs toward him, his ruddy face covered in sweat. The man retrieves a black backpack, pivots and heads back to a temporary encampment of users.
Spreading across neighborhoods
While the Methadone Mile is ground zero in the opioid crisis, many addicts have found their way into corners of Roxbury and Dorchester that had been largely untouched by heroin for decades.
"It's spilling deeper into the neighborhoods," Henriquez said.
Unlike in past years when heroin was seen as a mainly black "inner city" problem, the current epidemic has seen a large influx into Boston of whites from cities and towns across Massachusetts. A proliferation of so-called sober homes — unregulated group care facilities that often function as rooming houses — has exacerbated vagrancy in Roxbury and the use of public parks for drug use.