Brookline exhibit examines the refugee experience
Celina Colby | 6/28/2017, 11:55 a.m.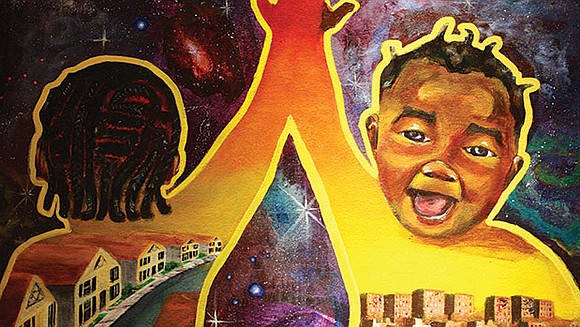 Through June 30, an extensive and affecting exhibition hangs at Gallery 1581 at the Boston Graduate School of Psychoanalysis. "Picture Social Justice and Human Rights" speaks to our collective world identity, emphasizing the experience of minorities and refugees. Through a range of media, the artists confront what it means to live in a world divided, and what steps can be taken towards a better life.

The themes of displacement and neglect run through each hallway of artworks. "Silence is Violence" by Demiah Crawford features a thick clay band with eyes painted on it. By not including a mouth, Crawford insinuates that the people not speaking out against injustice are complicit in it. On the backside of the sculpture, Crawford paints bands of skin color from light to dark that merge together into a globe, an indication of the unity necessary for progress.
Though the exhibit comes down this week, "Seeing Through Walls Mosaic Mural: to keep alive conversations for peace and justice in Israel and Palestine" will remain in the gallery. The mosaic triptych, crafted by Thaer Abdallah, Adnane Benali, Phyllis Bluhm, Beverly Shalom and Vivienne Shalom, aims to spark a dialogue about the Israel-Palestinian conflict. The intricate scene depicts the two cultures coexisting harmoniously at the river that divides them.
"Alan Kurdi's Dream of Peace" by Bayda Asbridge is a reactionary piece to the viral photo of Kurdi, a three-year-old Syrian boy found dead on a beach. The metallic Saori weaving of cellophane and acrylic yarn forms a spiral on the wall, interspersed with bright red and pink yarn. The spiral unravels onto the floor where it pools around a forlorn teddy bear, a representation of Kurdi's youth and innocence. Saori is a weaving style that prioritizes creativity and free expression. Like the mind of a child like Kurdi, there are no rules.
The spiral shape harkens back to Robert Smithson's earthwork "Spiral Jetty," created on Great Salt Lake in Utah in 1970. The piece extends into the ocean and is only visible at low tide, revealed, as Kurdi's body was, when the water recedes. In her artist statement Asbridge says, "As an American-Syrian artist, I found myself compelled to express my horror at the complacency of the international community to the plight of my people. The Saori weaving…represents this little child's large dream of peace that was drowned into the blue spiral of the Mediterranean Sea."