Report: Boston Latinos get slim share of city jobs
Yawu Miller | 6/21/2017, 11:03 a.m.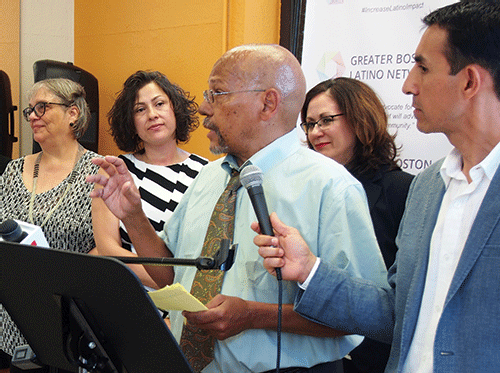 The administration of Mayor Martin Walsh has made modest gains in the hiring and appointment of Latinos in city government, but Latinos are lacking in key leadership roles, according to a report released last week by the Greater Boston Latino Network.
Walsh joined the directors of the Latino-led agencies who make up the network at the report release event, and pledged to do more to diversify city government.
The report, titled "The Silent Crisis II," followed up on a 2014 report and found that Latinos, who represent 19 percent of the city's population, are underrepresented in leadership positions in city government, holding just 10.5 percent of executive positions and 5.1 percent of positions on city boards and commissions. Of the six Latinos who hold one of the 57 executive positions in city government, five of them are concentrated in Health and Human Services, headed by Monica Valdes Lupi.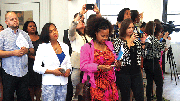 The report authors noted a slight increase in Latino hires during the more than three years of the Walsh administration, but said more work is to be done to make city government truly representative.
"There has been some progress," said Tufts University professor emeritus James Jennings, one of the report's authors. "Not as much as we would want, but some progress."
The report follows up on a 2014 report GBLN commissioned that underscored the lack of representation of Latinos in civic life in Boston and Chelsea. In Chelsea, where Latinos make up 62 percent of the population, there was greater representation among elected officials, but a similar gap between percentage of the population and representation in city government. In both cities, the Latino populations suffer higher rates of poverty, lower incomes and lower rates of home ownership.
Since 1980, Boston's population has grown from 562,000 to nearly 680,000, with 92 percent of that growth coming from the Latino community. Walsh said the well being of the city's expanding Latino population is vital to the city's future.
"If we don't adapt our power structure to reflect that change, our city will not be ready for the future," Walsh said.
The apparent underrepresentation of Latinos in leadership positions is mirrored in other levels of city government, with Latinos making up just 12 percent of city employees, not including the Police and Fire Departments.
While municipal jobs have for many been an entryway into the middle class, Latinos and other people of color have long been shut out of the word-of-mouth networks through which municipal jobs are often filled.
The concentration of Latinos in leadership positions in Health and Human Services and at the Public Health Commission, agencies headed by Felix G. Arroyo and Barbara Ferrar, suggests that hiring people of color as department heads does make a difference.
In 2014, GBLN members announced their findings at City Hall. This year the announcement was made at the Hyde Square Task Force, a youth development agency in Jamaica Plain. And in 2017, city government bears more of Walsh's mark than it did in 2014.
Shortly after he became mayor Walsh appointed a Chief Diversity Officer tasked with helping city departments find candidates of color to fill job openings. But in the initial formation of the office, there were no Latinos on staff. Earlier this year, Walsh appointed Tania Del Rio as diversity outreach director in the office.