Huntington Theatre production of 'Ripcord' on stage at Calderwood Pavilion through July 2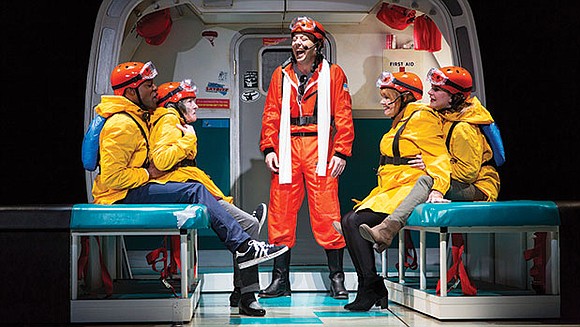 A softly-lit lavender bedroom in an upscale assisted living residence is the opening scene in the highly entertaining Huntington Theatre Company production of David Lindsay-Abaire's comedy "Ripcord," on stage through July 2 at the Calderwood Pavilion of the Boston Center for the Arts in the South End.
Two queen beds dominate the room, and indeed, two queenly women reside here, locked in combat over turf. Driving the play is their vow: Relentlessly cheerful Marilyn will move to another room if Abby succeeds in making her angry. And if Marilyn manages to frighten the aloof, antisocial Abby, she will take over Abby's window-side bed. Their game leads to increasingly cruel pranks.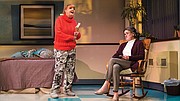 Directed by Jessica Stone and running about 90 minutes with a 10-minute intermission, this fast-moving production takes the play's single-minded focus and drives it hard. Yet although the plot is simple and the play's characters are, for the most part, cartoon-thin, the production delivers a touch of nuance and a bit of wisdom along with a gleeful comic punch. Keeping the play from becoming formulaic or sentimental is the production's strong cast and terrific staging.
Boston native Lindsay-Abaire won the Pulitzer Prize for his play 2007 "Rabbit Hole" and the Huntington's 2012 production of his satire about Southie, "Good People," was a big hit. In "Ripcord," produced in 2015 at the Manhattan Theatre Club, the playwright explores the nuttiness that takes over when people are stuck in roles that lock out others.
Take Abby. Shut into herself, her mouth frozen into a frown, she wears plain brown and black outfits. Food tastes like sand to her and rather than talk to people, she prefers to read books on her e-tablet. She wants the bedroom to herself and for several years, under previous management, she had her way, without paying extra for a private room. Nobody could stand staying with her.
But Marilyn, her new roommate, loves the room for its light and view of the park, and assures Abby that she is not going anywhere else. Shrill with cheer and attired in bright paisleys, she has equally loud and energetic offspring. "They'll do anything for me," says the ever-smiling Marilyn, with a touch of menace. Her son excitedly shepherds the ladies into a skydiving adventure and her daughter, outfitted in jeans and boots, eagerly takes her mother's side in battle, with her long-suffering husband as an accomplice.
Buffering the two adversaries is Scotty, a kind staff member who aspires to be an actor. He invites the women to his gig portraying a butler at a haunted house (Halloween is coming up). Marilyn happily snaps up a $12 ticket. Abby reluctantly follows suit, only to curry favor with Scotty. She has pressed to intervene on her behalf and ask the residence manager to move Marilyn to another room.
Taking the role of Abby is the ever-superb Nancy E. Carroll, who can convey longing or disdain with a flick of her eyes. In "Good People," she played Dottie, an amusingly self-absorbed landlady who made toys out of Styrofoam cups.